News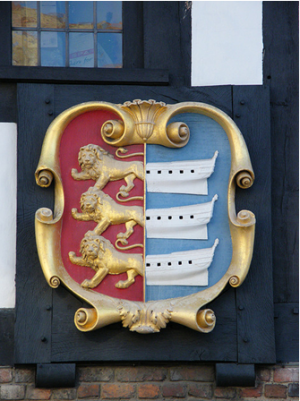 The Port of Dover, headquarters of LionAid, turns out to have a heraldic association with lions. Dover, along with Hastings, Hythe, New Romney, and Sandwich were designated in 1155 as the Cinque Ports (five ports) to maintain ships ready for the Crown in case of "need". In return, the ports received benefits such as exemption from tax, to be able to levy tolls, receiving self-government, and rights to recover goods thrown overboard and floating wreckage. Add a bit of smuggling, and the Cinque Ports thrived. They were after all the closest ports to France just across the Channel, and greatly important for trade.
However, bad times were ahead. While the ports suffered raids, plagues, and politics, it was inevitable storms, shifting sands, and changes in the coastlines that did most of them in. Hastings was burned by the French and destroyed by storms. New Romney was silted over, and is now a mile or more from the sea. The original harbour at Hythe no longer functions (more silting), and Sandwich is now located 2 miles away from the ocean. Only Dover remains a port, though the present harbour has been relocated from its original location and is maintained by sea walls. By the reign of Elizabeth I, the Cinque Ports became largely ignored in favour of others at Portsmouth, Plymouth, London, Southampton…
But the lions of the Cinque Ports endure. Britain has always been proud of its seafaring tradition and its lions, and the Cinque Port emblem combines both as you can see above. The Coat of Arms of the Cinque Ports first appeared in 1305, second amongst the earliest English known heraldic emblems, predating even the coat of arms of the City of London. The position of Lord Warden and Admiral of the Cinque Ports is the most ancient military honour available in England. It has been held in the past by Winston Churchill, Robert Menzies, Prime Minister of Australia, the Queen Mother, and most recently Admiral Michael Boyce.
Hopefully this emblem will soon come to stand for a cessation of the commerce of recreationally hunted lion trophies into the UK and the EU?
Posted by Pieter Kat at 23:32
No comments have been posted yet.
---
Add a new comment