News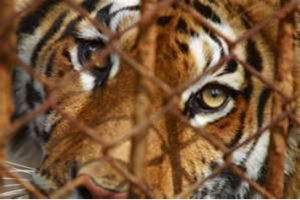 We and others have pointed out many times that South Africa is now the prime supplier of rhino horns and lion bones to an apparently insatiable Asian market. We have also pointed out that this increased supply will create an increased demand, and already has stimulated illegal trade and poaching.
South Africa absolves itself of any blame by invoking the right of private captive breeders to trade their products on the international market - but South Africa also facilitates this trade by supplying the necessary export permits. South Africa should well realise there is a significant problem created by allowing ever-increasing amounts of wildlife products to flow to Asia but does nothing about it (Environment Minister Edna Molewa said at least three years ago that she was going to seriously consider the levels of rhino poaching in South Africa – while well over a thousand more rhinos have been poached, she still appears to be seriously stuck in consideration mode).
South Africa also ignores the tremendous impact on wildlife in other African countries by facilitating this wildlife trade (and thereby poaching). Rhinos are now being poached at record levels in Kenya for example. Asian nationals are being detained at Johannesburg airport for attempting to illegally export lion bones, an indication that poaching of lions is already happening and likely to spread.
Not content with rhinos and lions, South Africa now seems to be heavily involved in the trade of tiger parts and live tigers. You might well ask why – tigers are after all not part of the African fauna. But once again, the captive breeders are allowed to do business despite a seemingly useless trade restriction in tigers and their parts by international regulatory organizations like CITES. How does this happen? Basically because CITES allows captive bred tigers a loophole in international trade regulations. But they still need export permits, and South Africa once again is happy to oblige.
So how many tigers did South Africa export? In the live animal export category a total of 131 over the past 11 years (2000-2010). Twenty three tigers were in the hunting trophy export category over the same period – so people actually come to South Africa to shoot tigers? Can you imagine the uproar in Europe if the UK or Germany or France allowed tiger breeders to invite trophy hunters to come and pay significant money to "hunt" tigers? Or if India, a tiger range State, allowed the same? So why is the playing field so different for South Africa?
Where did the live exports go? 54 to the Arab Emirates, and 16 to Vietnam. The Arab Emirates is a well-known staging point for the illegal trade of wildlife from Africa, and any live tiger sent to Vietnam will end up in an Asian Traditional Medicine pot to be stewed up for some tonic.
But here is a real surprise – 28 South African bred tigers went live to Botswana. Why? Is Botswana now also becoming a conduit for the illegal wildlife trade? Or is Botswana getting interested in lucrative tiger and lion breeding to supply Asian markets?
So where did the tiger trophy hunting exports go? Six to the Arab Emirates, three to Norway, two to the UK, two to the USA, and strangely, three to Lebanon?
We have written many times to the Ministry of Environment in South Africa to give an explanation for their agreement to the trade in lion bones. They do not reply, and probably will not on the issue of tigers. We will now question Botswana about their tiger imports – they will also likely not reply.
It seems to me that we should all take affirmative action. South Africa is directly responsible for the wildlife trade in rhino horns and lion bones they say is legal but is directly stimulating poaching. Now they seek to deal in tigers (trophies and live animals). The South African economy depends to a significant extent on tourism income, and much of that tourism has a wildlife component. South Africa will not pay attention to considered advice or questions on banning all exports of lions, rhinos, and tigers, alive or dead, to Asian countries known to be engaged in illegal trading. As responsible tourists might we in future reconsider plans to visit South Africa?
Posted by Pieter Kat at 10:54
No comments have been posted yet.
---
Add a new comment