News
Thursday 29th November 2012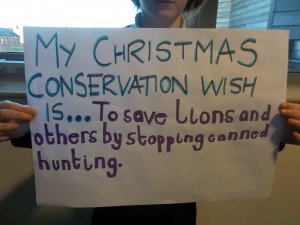 Last weekend, I was racking my brains about what activity I could organise for the pupils attending the last of my after school So What? club sessions at Navigation Primary School this term. Due to the particularly enthusiastic nature of the pupils in this club, we had finished a week earlier than scheduled, with one final session left to run.


After reading the shocking revelations reported recently by LionAid, concerning the sale of white lions from the West Midland Safari Park via Amazing Animals/Heythrop Zoo to the Kinoshita Circus in Japan, I immediately knew that I wanted to find out what the pupils at my So What? club thought of such a shocking revelation. After discussing this story, I planned to use the final session of my So What? club to find out more about the pupils' opinions on a range of global conservation issues affecting all species, which of these issues they were particularly passionate about and finally, if they could have just one Christmas conservation wish which they could use to abolish any threat facing the animals on this plant, which one would they choose?


The session proved to be a huge success and it was fascinating to listen to the pupils' opinions on a range of conservation issues. The pupils had strong opinions on the shark fin industry, rhino horn trade, deforestation, fur trade and the traditional Chinese medicine market. However, it was the canned hunting industry which stirred up a memorable reaction from the children. In fact, when I explained what canned hunting was, I was faced with an eerily silent classroom filled with shocked faces. Interestingly, the next So What? club at Navigation Primary School, starting in January 2013, will be based on the lion, and considering the passionate response of the pupils in this session to the usage of lions in the canned hunting industry, I believe it will be an extremely popular club which the pupils will find informative.


You can view the pupil's Christmas conservation wishes in the Gallery and I hope you enjoy reading them.


I wanted to end this blog by describing a moment from this session which in my opinion illustrates the obvious passion young people have for all animals, and why it is so important that we try and inspire as many of them to get involved in wildlife conservation. It occurred 15 minutes after I had asked the pupils to start making their wishes, when I noticed a particular child who was sat at her table with a blank piece of paper in front of her, looking bemused. Now, with certain pupils, such a lack of progress might be down to a lack of attention or the fact that they might not have fully understood what the task was. However, this particular pupil was an extremely enthusiastic learner and finding her sat with a blank page in front of her, looking confused, was a rare sight indeed. Therefore, I was slightly baffled at her lack of progress so I wandered over to her table and enquired supportively as to why she had not drawn or written anything yet and whether I could help in anyway. The pupil raised her head and replied, "it's just that I don't know which one to choose! I can't choose one animal over the other because I want to protect them all! If I use my wish to protect tigers, then what about the lions, cheetah, bears and all the rest – who will protect them?"
Matthew Payne
Picture Credit Pupil at Navigation Primary School.