News
Latest Lion Aid News
Category: Kids for Lions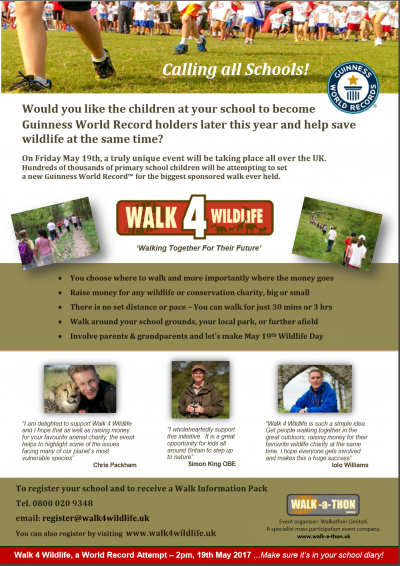 What a fantastic idea this is!!!!
On May 19th 2017 thousands of primary school children across the UK will be taking part in an attempt to break a Guinness World Record. The current world record is 231,635 people walking at the same time. Schools right across the UK are taking part and the only criteria is that everyone needs to be walking at 2.15pm on the 19th May.
We have joined Walk4Wildlife in this great endeavour to raise awareness for lions which are maybe only 5 years away from extinction in the wild. We hope many primary schools will respond to this challenge which will also raise essential funding for our endangered wildlife.
It's not too late to join in this exciting challenge. Click here to register your interest and we hope you will choose LionAid as your chosen charity to support!
We have contacted 79 primary schools in our local area so fingers crossed that some of them decide to join in this wonderful initiative!
Isn't this a great way to get children involved in learning more about the natural world around them and the part they can play in protecting our planet's amazing wildlife.
Well done to Mark Oliver and Walk4Wildlife for creating this opportunity and fingers crossed the Guinness World Record is broken on May 19th!!
Good luck everyone! Contact us on info@lionaid.org if you need more information or click the link above!
Add a comment | Posted by Chris Macsween at 11:38