These galleries show lion artwork from LionAids supportive artists.
Simon Stevenson
Acclaimed wildlife artist Simon Stevenson has painted his unique collection of wildlife images in the unusual medium of Tea and Ochre pigment (an earth pigment used for many thousands of years in cave paintings and rock art throughout the Great Rift Valley). Following in the footsteps of Africa's amazing wildlife, Simon has managed to capture the colour, mood and shimmering beauty of this stunning continent and its diverse wildlife. To view more of his extraordinary paintings, log onto his award winning website where you can view over 90 of his images.
"Stand Off"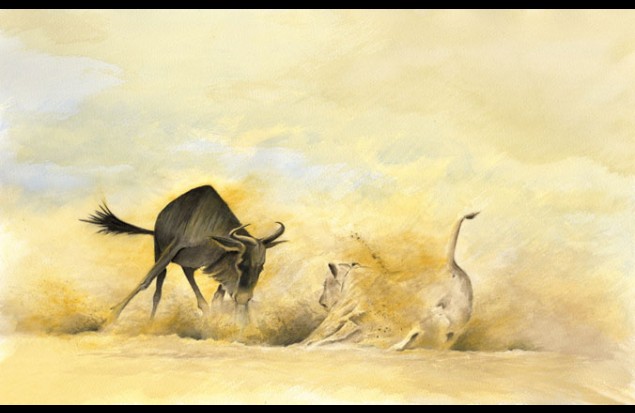 The final show down as a Wildebeest turns to confront a charging lioness.
The much sought after No 1 in the series of 500 Signed Limited Edition Prints.
Painted in Tea and Dry Ochre pigment.
Dimensions 27" x 18".