News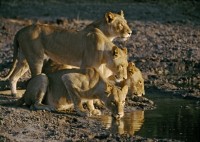 We would like to thank Cineworld Cinema in Ashford, Kent for their kind donation to LionAid.
During the screening of the new Narnia film, "The Voyage of the Dawn Treader" we were pleased to work with the cinema to highlight the plight of Aslan's real life wild relatives.
We hope very many people picked up our leaflet and learnt a little more about the devastating decline in lion populations.
We depend on donations to keep our important work going. Together with you, we can make a big difference to keep lions surviving in the wild. Our children and grandchildren should not have to ask the question "What is a lion?"
Posted by Chris Macsween at 17:36
No comments have been posted yet.
---
Add a new comment