News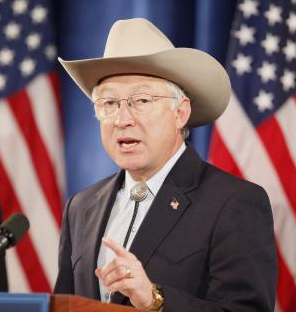 Recently, a number of US-based conservation organizations appealed to Ken Salazar, Secretary of the Interior, to list African lions under the US Endangered Species Act. Their intention was to disallow any further trophy hunting imports of lions into the USA, the world's largest consumer.
Much was made by the press of the letter sent to Salazar, but one needs to step back a bit to consider the character of the man in terms of any hope of success of his signature.
First:
when he was appointed by Obama, the Safari Club International immediately gave Salazar their endorsement as Salazar was a valued supporter:
"Senator Salazar is currently a member of the Congressional Sportsmen's Caucus and has been a consistent pro-sportsman vote since he came to Washington, DC, in 2004. 'With this appointment, President-Elect Obama has made the logical choice of an Interior Secretary who understands the sportsmen's legacy of hunting and conservation on America's public lands,' according to a statement from SCI.
'We are pleased that President-Elect Obama has resisted the pressure from anti-hunting groups to name an anti-hunting extremist to this important post,' said SCI President Merle Shepard. 'Senator Salazar's pro-hunting votes over the past four years in Washington, and his support for access to federal lands for hunting throughout his entire career in Colorado will prove to be invaluable for sportsmen and women during this Administration.'"
Second:
as mentioned above, Salazar is a member of the Congressional Sportsmen's Caucus. This is a group that falls under the Congressional Sportsmen's Foundation who describe themselves as follows:
"Headquartered in Washington, DC just steps from the U.S. Capitol, CSF's sole focus is providing access and a voice for sportsmen in the U.S. Congress, the Administration and federal land management agencies, as well as state legislatures across the country. With support from every major hunting and fishing organization and industry, CSF is the leader in promoting sportsmen's issues with elected officials.
The Congressional Sportsmen's Caucus (CSF) is one of the largest and most effective caucuses in the US Congress with nearly 300 members representing almost all 50 states. With bipartisan leadership in both the House and the Senate, the Caucus is the sportsmen's ally and first line of defense in Washington promoting and protecting the rights of hunters, trappers and anglers." (http://www.sportsmenslink.org/)

SCI President Merle Shepard is on the board of directors of the CSF, and their major donors are Anheuser-Bush (Budweiser), Shell Oil, Wall Mart, Toyota, Ford, Lockheed-Martin, Comcast – and then the regular suspects like the National Rifle Association, Safari Club International, and Conservation Force.
Third:
Salazar affirmed the Bush administration's decision to remove protections for grey wolves in most of the Northern Rockies.
"On April 2, 2009, Secretary Salazar delisted the gray wolf throughout the Northern Rockies, except Wyoming. 74 Fed. Reg. 15123-15188. This removal of legal protections allowed a subsequent slaughter of wolves in the Northern Rockies. The number of wolves killed by hunters and the federal agency Wildlife Services in Idaho and Montana last year was 444 animals. The tally for wolf deaths in 2009 in the Northern Rockies was close to 600." (http://dscriber.com/world/1796-should-interior-secretary-ken-salazar-resign)
Fourth:
Salazar's record on the Endangered Species Act listings has been less than salutatory. From the same website above, that actually called for Salazar's resignation via a letter to President Obama, the following was mentioned:
"Another scandal at Interior when Mr. Salazar took his post involved the Endangered Species Act's listing program. Due to long-term stalling and obstruction, the listing program had virtually ground to a halt. In two separate reports (dated March 2007 and December 2008), the Interior Inspector General documented a multitude of imperiled species for which federal protection was denied due to corruption within Interior. Under Secretary Salazar's watch, imperiled species continue to be denied federal protection, principally through foot-dragging. In a 14-month period, from January 2009-March 2010, Secretary Salazar listed just two new U.S. species under the Endangered Species Act, despite a backlog of approximately 300 species awaiting listing. This was the lowest federal listing rate for the first year of an administration since the law was passed in 1973. Secretary Salazar dismissed concerns about the sluggish pace of listings in late December 2009, saying his goal is not "number counting of how many species have we listed and how many have we not." While Mr. Salazar would prefer not to emphasize objective numbers, the question is not idle. The Endangered Species Act is effective in preventing extinction, but species do not benefit from its protections until they are listed. The 300 species waiting for listing are moving closer to the precipice as a result of Mr. Salazar's refusal to count."
So lions are now number 301 or 401 on Salazar's waiting list?
As stated in an earlier blog, the US conservation organizations' letter to Secretary Salazar was hopeful but ill-considered. Know your opposition and act from a position of science and strength. Perhaps Salazar will still push for an Endangered Species Act listing for lions despite his lack of action on the 300 other deserving species? Or perhaps he will resign and run for Governor of Colorado to maintain his hunting lobby friends? Either way, this is a man in an important Cabinet position and cannot see constructive ways forward. He is probably wined and dined by lobbyists every day of the week, and already has a good report card from SCI. Bad choice for Secretary of the Interior President Obama, but probably Salazar won you some important electoral votes in Colorado during your presidential campaign…

Picture credit: http://anniekatec.blogspot.com/2010/11/obama-faces-tricky-decision-on-polar.html
Please stay tuned to these reports, and to make our continued efforts possible, donate generously to LionAid
http://www.lionaid.org/lion-aid-support-giving.php
Posted by Pieter Kat at 22:49
No comments have been posted yet.
---
Add a new comment