News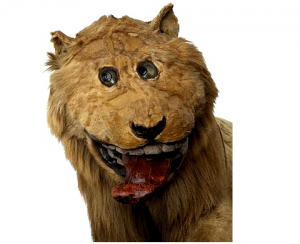 Earlier this month, Ulrika Good's image of a lion in the hands of a bad taxidermist went viral on the internet. In his defence, the taxidermist had probably never seen a lion before, and was only presented with the skin and some bones (obviously no skull included) to work from. Oh, and the taxidermist completed this masterpiece probably in the late 1730's.
Turns out the live lion (and some other animals like hyenas together with a freed slave to take care of them) was presented to Frederick I, King of Sweden, by the Bey of Algiers. When the lion died it was stuffed. The taxidermist perhaps worked from heraldic images available at the time (hence the projecting tongue). Also, since the mounted lion is probably about 270 years old, some facial collapse of the original might have occurred? Nevertheless, this lion currently on display at Gripsholm Castle outside Stockholm has become a favourite Photoshop subject as can be seen here for example.
Or was this a taxidermist privately expressing his opinion about Frederick I? Wikipedia states that the King grew increasingly bored with matters of state, preferring hunting and love affairs to take up his time. When he died, a critic had this to say about him: "Under the reign of King Frederick, science has developed - he never bothered to read a book. The merchant business has flourished - he has never encouraged it with a single coin. The Stockholm Palace has been built - he has never been curious enough to look at it." So was this the King portrayed as a lion?
We will never know….
Posted by Pieter Kat at 19:16
No comments have been posted yet.
---
Add a new comment