News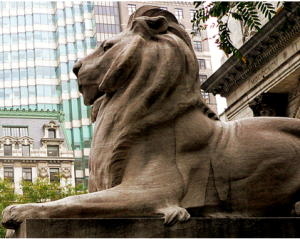 Patience and Fortitude, perhaps the two most famous lions in the USA, will become 100 years old next month . They are the pair of marble lions that guard the New York Public Library, and were given their names by Mayor Fiorello La Guardia during the Depression for the qualities that would get New Yorkers through their testing times. Legend has it that they were originally called Leo Astor and Leo Lenox after the library's founders, John Jacob Astor (who made a fortune in opium, the fur trade, and real estate, and whose grandson John Jacob IV died on the Titanic) and James Lenox…
The New York Public Library logo includes a lion, and will have a gala to celebrate their centenary. However, when originally unveiled, the lions were not well received. "Squash-faced" and "mealy-mouthed and complacent" were some criticisms. One letter – writer to the New York Times said "We don't want square-jawed lions" and another called them "a cross between a hippopotamus and a cow" and "monstrosities". Current Library President Paul LeClerk disagrees – he says "Their scale and their benign composure really set them apart from any other lions flanking any other building – [what they] radiate is calm and strength, majesty, tranquillity, all really good things to be sending as signals at a library."
Famous as they might be, Patience and Fortitude do not surpass the celebrity of the four bronze lions guarding Nelson's Column on Trafalgar Square in London. Sculpted by Sir Edwin Landseer (a famous animal painter at the time and a favourite of Queen Victoria) they as yet have no names. They were also not well received initially by the public, and Sir Edwin delayed and delayed their eventual completion until 1868. Writing in 1886, W. J. Nettleship, a distinguished painter of lions, was still criticising Landseer's lions:
"The Trafalgar Square lions must be quietly damned, because, pretending to be done from nature, they absolutely miss the true sculptural quality which distinguishes the leonine pose, and because a lion couched like that has not a concave back like a greyhound, but a convex back, greatly ennobled in line from the line of a cat's back in the same position."
Sir Edwin, at the request of his family, was declared insane in July 1872.
Lion statues abound in the UK, and LionAid launched our initial publicity campaign by shrouding statues in very many cities in March 2010 to bring public attention to the plight of African lions. Thanks to Boris Johnson, Mayor of London, we shrouded a Trafalgar Square lion with Mr Nick Herbert, then Shadow Sectretary of State for Environment. Patience and Fortitude might be virtues, but so far they have led to nothing but a 90% decline in Africa's lion populations. Perhaps on their 100 year birthday we can rename the NY Library lions Concern and Action?
Posted by Pieter Kat at 22:04
No comments have been posted yet.
---
Add a new comment