News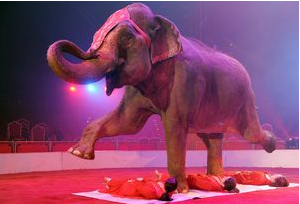 Recently, there has been a backlash in the UK for the use of circus animals like tigers, elephants, and perhaps lions in shows to entertain the public. According to the UK Independent newspaper, they have close to 10,000 signatures to cease the practice of having what they label as "wild animals" performing for financial gain by these circuses. The Independent is supported in their campaign by the RSPCA, the British Veterinary Association, Born Free, the Captive Animal Protection Society, and Animal Defenders International. The petition, according to the Independent, has been given qualified support by UK Environment Ministers, but was recently blocked by the Prime Minister to whom those signatures are now addressed.
While we do not in any way condone the practice of using exotic animals for amusement – like for example dolphins and killer whales in the various Sea Worlds of the USA - we would also urge the Independent to consider a campaign against another form of entertainment – recreational hunting. Rather than circus animals being "abused", this other form of entertainment leads to animals being killed.
You will always react emotionally to secure animals from maltreatment. But give a thought to the wild lions as well? They do not get the headlines, they do not get the 10,000 signatures. But they are also well worthy of your concern and support, as they are also currently maltreated for commerce?
Posted by Pieter Kat at 22:47
No comments have been posted yet.
---
Add a new comment