News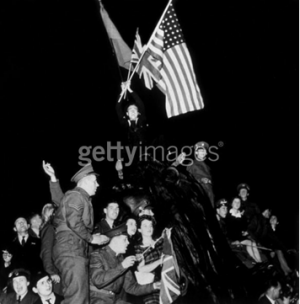 It was May 8, 1945 when Germany surrendered unconditionally to the Allies in WWII. It was also the day when George Broomhead, now 87, was given 24 hours leave from HMS Meynard to celebrate. George headed straight to London, and into Trafalgar Square. In an interview with the BBC World Service today he related that he climbed on the back of one of the four massive bronze lions around Nelson's Column (George was in the Navy after all!) and then onto the head of the lion (not a mean feat). George was handed the Union Jack, the Stars and Stripes, and the Russian flag and directed the singing from his lofty post. So much jubilation – he said – it went on for hours.
His photograph (above) went around the world and George remembers sitting on that lion as one of the best days in his life. He relates that when he came back to his ship his friends in the crew said – well, we know where you were last night! – the Picture Post magazine had put his wonderful picture in their morning edition.
George had personal reasons to celebrate as well – he survived a torpedo attack on one of his previous ships, and continued to fight for freedom in Europe. Our salute to a brave man.
Well done George, and thank you for choosing a universal image of valour, bravery, and steadfastness to celebrate with. I have no doubt that George Broomhead would be appalled to know about the current decline of lions, and when a trophy import ban is announced, we will ask him to sit on a Trafalgar lion again to commemorate another important victory. We will provide ladders for this occasion, and Mr Broomhead can once again survey Trafalgar Square from the best seat ever.
Posted by Pieter Kat at 09:35
No comments have been posted yet.
---
Add a new comment