News
Saturday 10th September 2011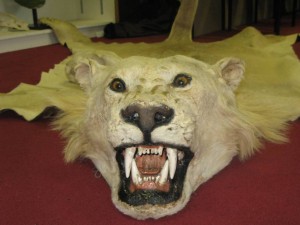 The past few days have been atwitter (literally) with lion trophy hunting.
It began when LionAid was alerted to an auction to be held at the Gala Dinner for the UK Independence Party. One of the items on auction was Lot 12: The skin, with head, of a lioness shot in Zimbabwe. (Reserve £200). Donated by Geoffrey Clark (who did not shoot it!). Current bid stands at £250.
LionAid jumped on this with many objections, as did our strong supporter, Catherine Bearder MEP. The Independence Party was invited to a BBC Radio interview with LionAid, but Nigel Farage, the Party Leader, declined. A short interview was conducted with Chris Macsween, Trustee, and the BBC put out a report on their website. An Independence Party spokesman (not identified) came back with this statement :
"We appreciate that such an item is not to everybody's taste.

"The lion head and skin is an antique which was donated to the party by a member. The member in question originally received it as a gift following a stint working in Zimbabwe.
"It is approximately 45 to 50 years old and came into the country long before modern day legislation was in place to halt such imports."

And changed the original wording of the auction item to:

"Antique skin, with head, of a lioness shot in Zimbabwe. (Reserve £200) Donated by Geoffrey Clark (who did not shoot it!)."
In other words, the Independence Party did some scrambling – by using the word "antique" they hoped to avoid criticism of the legality of the auction item (LionAid would still like to see the paperwork on this trophy and/or a certification that it was indeed shot before current CITES legislation came into force).
We now hear from our sources that the item was withdrawn from the auction and returned to the original owner. To their credit, certain members of the UKIP also voiced strong objection to the sale as revealed by Twitter messages.
The second lion trophy hunting scandal has been brewing around Sir David Scholey. In a major article in the Sun Newspaper
(headline – "Who's the Bigger Beast – Millionaire banker Sir David Scholey poses by the bloody corpse of a lion after shooting it for fun on a trophy hunting holiday") Sir David is questioned about his trophy hunting activities.
Sir David was unrepentant, saying:

"I have been hunting all over the world for many, many years and I have always hunted within the legal arrangements of the country concerned. I regard that as an entirely personal matter.
"All the animals I hunt are wild beasts. And I have felt threatened by them at times.
"The lion I killed certainly wasn't an endangered species where I was hunting it."
"Obviously, if I felt there was anything wrong in it I wouldn't do it.
"The object is to dispatch the animal with a bullet it never hears. That's why it's important to be a very good shot before you even think about hunting. I continue to hunt big game, not as much as I used to but I do continue to do it."
So there you have it. Interesting that both UKIP and Sir David immediately retreat behind the "legality" of their actions? It should be noted that Sir David was mooted as governor of the Bank of England as well as chairman of the BBC, but that was a while ago. You can see a rather scathing resume here.
There is also a rather humorous diatribe by the hunter who guided Sir David to his trophy:
"I recieved from a fellow PH out of Botswana, one of the GoldenBall brigade, about a picture on my website showing a Lion with blood around the exit wound. You see this fellow got involved in a war of words with a facebook site run by a bunch of prancey, ballet shoe wearing poofters who sneak about London and cover the famous Lion statues of London with black shrouds - they are trying to make a statement about what if Lions were suddenly gone form the earth! They used this blood soaked picture from my site to horrify the destruction we are causing to the Lions of Africa, hell you're telling them the truth, Lion actually bleed when you shoot them - DEAD!
"NO this is not the reality we want people to see, so we make rules about it, form committees to police any infringement there of because this is not what we want our hunting to be, this is not what we want the world to see - in our world there's no blood spilt, animals pass away peacefully without any broken bones or horrible death bettercries - in our world we want HOLLYWOOD - the big sun bronzed PH's with gold inlaid doubles, the ones they bought at our convention, we want dead lions with combed manes and crisp mouths, no blood, no tongues hanging out and of course we want well dressed clients sitting behind them in leather gloves and safari gear that we are going to promote at next year's convention!
I wanted to tell this fellow - a well known Botswana outfitter to take his comments and shove them up his backside, but then I would be breaking the rules, don't engage them, just grin and bear it and carry on with what you know!"
At the end of the day, let's hope the news stories have done some good. The British public is better informed about lion trophy hunting, and let's all move forward from there. A good friend pointed out that if the UKIP lion trophy was indeed 50 years old, it was taken at a time when there were 200,000 lions in Africa. Thanks in part to people like Sir David, there are now about 25,000 remaining. It is high time for Zero Tolerance for any further lion sport hunting.
Posted by Pieter Kat at 15:53
No comments have been posted yet.
---
Add a new comment