News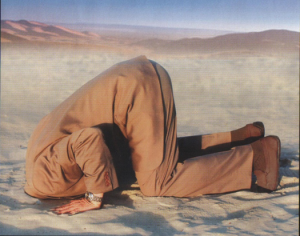 Supposedly, ostriches are supposed to bury their heads in the sand when they don't like what they see, and then hope it will all blow over. No real ostrich has ever done this, but the image sticks and is entirely appropriate to how a great diversity of problems are "dealt" with in the world today. Newspaper barons and bankers have most recently tried to adopt these means to their ultimate detriment.
This is not the way to deal with conservation issues, as only the species will go away, not the problems.
I have been writing much about South Africa recently – the Ministry of Environment supports the rhino horn trade, the lion bone trade, the ivory trade and the trade and trophy hunting of captive bred tigers. The politicians, like Edna Molewa, the Environment Minister, do not seem to realize that when she sticks her head in the sand, the largest part of her body is still visible to the rest of us. It should be noted that South African politicians (among those in very many other countries) are good at being ostriches.
Perhaps a relevant example is that past South African President Thabo Mbeki and past health Minister Dr Manto Tshabalala-Msimang denied that the HIV virus caused AIDS, a rather curious denial given all scientific proof. A study by Harvard University in the USA estimated that 365,000 people died as anti-retroviral drugs were then no longer supplied in South Africa – the past health Minister urged people to take garlic, lemon juice, and beetroot as remedies. The Minister who replaced Dr Manto apologized…
I appeal to President Zuma of South Africa to instruct Edna to get her department in order or replace her. South Africa is increasingly seen as a country with destructive wildlife conservation policies, and such policies are spreading into the destruction of wildlife across the continent. South African Conservation organisations remain silent, but we need to speak out. LionAid has never been shy to address issues head on – and unless the ostrich model changes in South Africa, we would advise all conscientious tourists to stay away.
Picture credit: http://bit.ly/ND46bA
Posted by Pieter Kat at 15:27
No comments have been posted yet.
---
Add a new comment