News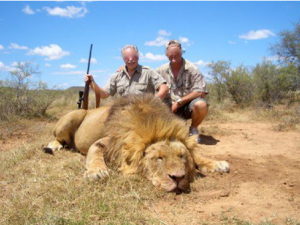 I was alerted to a Facebook site posting pictures of captive raised lions ready to be trophy hunted. It is becoming equivalent to ordering from a takeaway menu at a Chinese restaurant on the internet – I'll have one from menu B, two from menu C and I'll be there tomorrow.
This of course all happening in South Africa where game ranches and captive breeding programmes earn an estimated $100 million per year from people willing to shoot animals confined inside fences. It is not going to go away without international pressure, it is a successful business formula, it works.
These are theme parks with live ammunition. They advertise themselves with good food, good wine, a lovely campfire chat in the evening, thatched chalets with airconditioning, and lots of shooting of live animals during the day. You are driven to the animals by car, there are helpful people to assist you to identify your targets and set up the rest for your rifle with a telescopic sight, and then shake your hand afterwards for a job well done. They provide video clips with satisfied clients, all smiles posing with their trophies. On one site, an ecstatic client standing over a killed captive bred lion said in an American accent:
"That is the dream of dreams. Doesn't get any better than this. Full-sized male African lion".
Like it or not, and even "true hunters" readily condemn this type of sitting-duck hunting, these theme parks are here to stay. Other countries in southern Africa are establishing game "ranching" to get a piece of this paid-to-order business.
What is interesting is that some would call it "conservation". At the deservedly roundly condemned and useless Rio+20 Convention, Bernard Loze, the head of CIC – a pro-hunting lobby – mentioned this:

"In South Africa, the private game ranching industry now covers nearly three times as much land as all public national parks. The 12 000 wildlife ranches contribute greatly to economic growth… [there is now] more game than at any time during the last 100 years, including species which have been brought back from the brink of extinction. The conservation and management of wildlife as part of a green economy does not receive the attention it deserves in the Rio process. Yet wildlife and hunting contribute considerably to national economies, and this in a nature-friendly way. Sustainable game management is consequently a must in the struggle to conserve biodiversity and to support rural livelihoods."
So the theme park hunter is now part of a green economy according to Bernard Loze? Oh well… they must sleep better at night.
You can see the take-out menu on the Hartzview Hunting Safaris facebook page and you can see their advertising video by going to their website (caution: video contains footage of animals being shot).
Posted by Pieter Kat at 13:47
No comments have been posted yet.
---
Add a new comment