News
Saturday 25th August 2012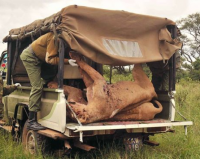 On the 1st June 2012, a new innovative Association was born in Kenya – Eseriani Wildlife Association.

We are proud to say LionAid contributed to the initial idea and gave advice and encouragement to form this group whose vision is for Kenya to be a land rich with both wild and domestic animals, sharing nature with the people peacefully.

Eseriani meaning "place of peace" in the Maasai language is hoping to become an officially designated NGO whose stated aim is to mitigate conflict between the Kenyan authorities and the communities who share their living space with wildlife. It hopes, in effect, to become the role of an impartial Ombudsman, gaining the respect of both the communities and the authorities and to fairly represent all viewpoints paving the way for a lasting peace, respecting the wildlife and an equitable sharing of the revenues to be earned from non-hunting tourism.

The initial idea for this group came, as is often the case, on the back of tragic events ( sadly the loss of wildlife as a consequence of the frustrations between the communities and the authorities) and draws its membership from valued members of both the pastoral communities and outside professional advisors who can facilitate negotiations.

We wish Eseriani all success and look forward to consulting with them and the Kenya Wildlife Service in October when we are hoping to visit and add our contribution to the valuable work they will do together.

To DONATE to LionAid and support our work to mitigate wildlife conflict, please click here. Thank you for your generosity.
Picture Credit: http://bit.ly/RM98XI
Posted by Chris Macsween at 12:45
No comments have been posted yet.
---
Add a new comment