News
Wednesday 5th December 2012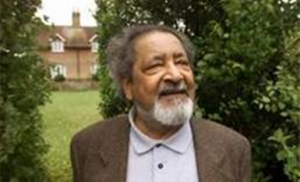 Let's look back over the past twenty years and celebrate the major successes that have made a real difference to the survival of species and world ecosystems. Like you I'm struggling here so let me backtrack while I think on this.
One of my favourite authors, V.S. Naipaul (above) hailing from Trinidad, was for a time a lecturer at Makerere University in Uganda. Famously, according to Paul Theroux, another favourite author, Naipaul was given the responsibility of assessing winners for the Creative Writing prize among his students. Naipaul declined to grant a First or Second prize, and only awarded a Third prize to the contestants. He said nobody was good enough to earn higher prizes.
Mr Naipaul was known as a perfectionist and a tough judge. He won the Nobel Prize for Literature in 2001, and perhaps we can apply the Naipaul Principle to conservation. Sure, there are many individuals who win conservation prizes for their dedicated efforts. You might know their names and they are good people working tirelessly to ensure the species they are concerned with might have a future. In terms of real effectiveness Mr Naipaul would still perhaps give them his Third Prize in terms of overall efficacy.
Now let's consider the NGOs that claim to have made a major contribution to wildlife conservation. There are big ones and small ones, and some are making a difference. But funding, according to the Naipaul Principle, is largely misspent. Leave alone the various president, vice president, assistant president, species presidents, financial officers, lawyers, public relation companies, office rents, meals, travel and sundry expenses, the amount spent on corporate maintenance versus species conservation beggars belief. One major NGO spent $50 million on "conservation grants" according to 2008 tax records, but an analysis indicates that $35 million of that amount was spent on maintaining international offices. Meanwhile they also spent $116 million on their own office and "functional" expenses. In total that organization spent 90% of received funds on their own operations versus conservation programmes. Conservation has become business, and Mr Naipaul would give no prizes to such well established NGOs.
Turning to the international organizations, few have performed well. CITES has not maintained their promise to support the ban on international ivory trade, and that had led to the killing of 25,000 elephants over the past three years in Tanzania alone. CITES allowed South Africa to conduct rhino trophy hunting and the horns disappeared immediately into the illegal trade in Vietnam, home of "pseudo trophy hunters". CITES allowed trade of hundreds of live rhinos from South Africa to very dubious destinations in Asia. CITES allows captive bred tigers in South Africa to be trophy hunted and live tigers to be exported to China where they are destined for the medicine pots. CITES allows a "personal and household effects" derogation to exempt lion trophies that constitute about 70% of lion offtake from any consideration of trade, meaning that CITES abrogates responsibility. Mr Naipaul will not be handing any prizes to CITES especially given the tragicomic charade at the last Conference of Parties (2010) in Doha and a likely repeat next year in Bangkok.
The IUCN does not see fit to consider genetic information to declare African forest elephants critically endangered. Nor do they consider western and central African lions similarly endangered on the basis of their unique genetics. If the IUCN could be so motivated, they would make a big difference in funding priorities. The IUCN and another major NGO are opposed to the good Kenya initiative to place a moratorium on South African rhino trophy hunting (a major conduit into the illegal trade), mentioning that it will negatively affect income of private rhino owners. A strange decision given conservation and poaching concerns in other African countries – Kenya lost five rhinos poached just over the past weekend. Mr Naipaul would not be impressed with such apparent vested interest influence within organizations entrusted to keep a keen eye on species' survival.
The International Whaling Commission has been somewhat effective in conserving whales. Despite all negative information concerning the impact of whale harvests, the IWC still allows offtake by Japan, Iceland and Norway for "scientific reasons". But overall, the IWC gets a Naipaul Third Prize for trying hard and recently insisting that all decisions will be based on scientific information transparently made available to the public.
So, who gets a First or Second Prize? Nobody. The failure of all organizations to make a tangible conservation difference over the past 20 years is sadly evident despite many hundreds of millions earned from donors. What is needed is a new formula; much better attention to scientific information, combating illegal offtake and a much better evaluation by the donating public as to the effectiveness of the organizations receiving their money. Mr Naipaul would say that heads need to roll in many organizations based on non-performance and betraying a public trust. But conservation organizations are not (yet) evaluated according to Mr Naipaul's rules.
It is true that conservation of species and ecosystems is being presented with an ever-changing playing field – just look at the impact of commercial poaching on rhinos, elephants, lions, pangolins and sea horses, for example, to supply a seemingly insatiable demand for ivory and Traditional Medicine products in Asia. But the writing was on the wall for a long time. You can't shape the future of conservation by relying on past formulas while poachers are using night-vision goggles and helicopters and big bribes for officials. Conservation efforts are due for a sea change if wildlife is to survive, and the Naipaul standard of performance must be applied.

Picture credit: thestockholmshelf.com
Posted by Pieter Kat at 16:50
No comments have been posted yet.
---
Add a new comment