News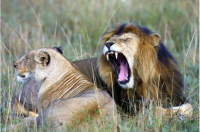 Entitled "Africa battles poachers to save its wild lions", ABC News in Australia recently interviewed Pieter on their evening show about the catastrophic decline in lion populations, particularly in western Africa.
Have a listen.....
Picture credit: http://bit.ly/W3tmJp
If you have not already signed up to our mailing list, you can add your name here and keep up to date with our ongoing work and, most importantly, financially support us to conserve the remaining fragile lion populations.Thank you.
Posted by Chris Macsween at 17:40
No comments have been posted yet.
---
Add a new comment