News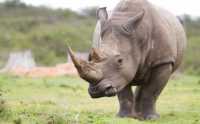 A news item was posted today by Business Day Live on a new report expected in the first quarter of this year on whether South Africa should apply to trade in rhino horn under the Convention on International Trade in Endangered Species of Wild Flora and Fauna (Cites).
The report contains several quotes from our very own Dr. Pieter Kat, including:
"Mr Kat says Kenya argues that despite progress made by South Africa in instituting more demanding control measures, rhino poaching continues to rise."
"Kenya is of the opinion that such poaching has resonated across borders and that the recent upsurge in rhinos poached in Kenya is directly linked to a problem made in South Africa," Mr Kat says.
Click here to access the full article
Picture credit: THINKSTOCK http://bit.ly/XhET9F
If you have not already signed up to our mailing list, you can your name here and keep up to date with our ongoing work and, most importantly, support our work to conserve the remaining fragile lion populations.Thank you.
Posted by Chris Macsween at 17:29
No comments have been posted yet.
---
Add a new comment