News
Wednesday 16th January 2013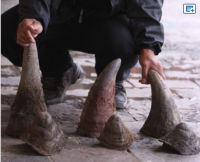 Please see here a report in The Asahi Shimbun, Japan's primary newspaper. The reporter shows us a glimpse of how the rhino horn trade is conducted in South Africa by "pseudo" hunters like an employee in a Thai household. And how "proxy" hunters are recruited in countries like the Czech Republic. LionAid was privileged to be able to provide support to this excellent journalist in terms of background information and contacts.
Picture credit: http://bit.ly/V7Y6ho (Provided to them by a person with close contacts to South African officials)
If you have not already signed up to our mailing list, you can add your name here and keep up to date with our ongoing work and, most importantly, financially support us to conserve the remaining fragile lion populations. Thank you.
Posted by Pieter Kat at 12:06
No comments have been posted yet.
---
Add a new comment