News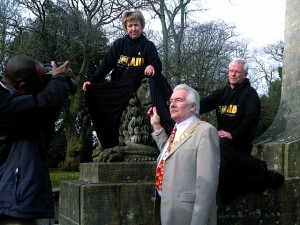 LionAid conducted a campaign called "Where have all the lions gone?" ™ during the month of March 2010 to raise awareness of the plight of the lions.

The campaign consisted of a simple but effective strategy to engage public and media attention. The larger cities in the UK all have statues of lions in public places, and we covered a selection of them up with black cloth, one day per city.
The press did us proud and the trustees, together with several mayors, city council chiefs, the Lord Provost in Glasgow and even one delightful deputy sheriff were photographed next to the shrouded lions, the trustees wearing black sweatshirts with the inscription "Where have all the lions gone?" ™ to bring the message home.
This powerful message is that extinction is forever, and that as we lose the wild lions, so might we need to lose the many representations of lions we encounter in daily life. This would mean no lions on heraldry, no lion statues, no lions on the England football and cricket team badges, no lions depicted on coins, and the word "lion" eliminated from pub and hotel signs.
It was a successful campaign,across the UK, shrouding lions in major cities with a culminating event in Trafalgar Square where we shrouded one of the best known lions in the UK.
The Campaign launched in Glasgow on the 2nd March; it went on to Blantyre, Blackpool, Manchester, Liverpool, Nottingham, Norwich, Birmingham, Bath, Isle of Wight, Portsmouth and finally culminated in Trafalgar Square, London.
The "Where have all the Lions gone?" Campaign attracted good media interest through the press, radio and local television. Many local BBC Radio Stations featured our very own Dr. Pieter Kat on their radio programmes, mostly during the early morning show which meant an early start for all of us in most cities!
It proved to be a unique way to bring attention to the plight of the magnificent African Lion.
We conducted this campaign with the full cooperation and generous assistance from the city councils, National Trust in Blantyre, Scotland and Trafalgar Square Management in London. We were also given all our hotel accommodation free in each city from Premier Inns, Hilton, Holiday Inn, Q Hotels, Crowne Plaza, Mercure and De Vere Hotels.
We offer our grateful thanks to every one of you. We couldn't have done it without you.
Add a comment | Posted by Chris Macsween at 00:00