News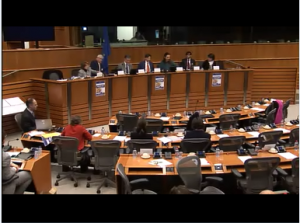 LionAid at the European Parliament
We recently were asked to give a presentation to the European Parliament at a Workshop on wildlife crime, organised by Mr Gerben-Jan Gerbrandy, MEP (Alde-NL).

As Mr Gerbrandy said "The dramatic explosion in wildlife poaching and trafficking has been driven by growing demand in Asia, but Europe is no innocent bystander and it is high time that the EU did something about it… the European Union is the third largest market for illegal wildlife products after China and the United States".

There remains a long list of things that need to be done in order to gain a measure of effectiveness in the fight against wildlife crime. An organized response will therefore likely take many years to materialize especially as no time frames and milestones have been set.

However, effective measures can be put in place almost immediately by closing a number of existing loopholes. Wildlife products are currently gaining entry into the EU by dubious means even though they are accompanied with CITES "permits" issued by the countries of origin. Records of such imports and exports are available on the CITES trade website, although data for 2011 is only just now becoming available.

Nevertheless, the data can provide trends and indications of patterns, thereby pinpointing trade "hotspots" with obvious potential for law enforcement efforts.

Using the legal trade records, we will show that there are considerable inconsistencies that can be seen as facilitating the illegal trade. These studies of the "grey trade" need to be expanded, enhanced and maintained. Criminal networks are highly flexible in terms of taking advantage of these loopholes, and their areas of operation can rapidly shift as enforcement attention is focused on a particular nation.

The limited investigations LionAid has already carried out and which we revealed at the Workshop were met with astonishment & shock. Nobody had seen these trends until we began to point them out.
Here are the full details of this new important project that we have placed on The Big Give.
We need to raise £50,000 to complete this initial project. We can't do it without your support.

All sums donated, large or small, will help us reach the funding we need to identify the loopholes used by the wildlife traffickers.

Thank you if you can help.
If you have not already signed up to our mailing list, you can add your name here and keep up to date with our ongoing work and, most importantly, DONATE to support our work to conserve the remaining fragile lion populations. Thank you.
Posted by Chris Macsween at 21:17
No comments have been posted yet.
---
Add a new comment