News
Tuesday 24th December 2013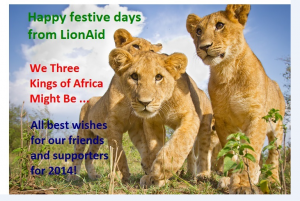 Happy Christmas to all our friends from Chris, Pieter and the team at LionAid!!
Happy festive season everyone and many thanks for all your support during 2013.
2014 looks to be an important year for lions:
The USA might place lions on their Endangered Species Act, but expect further delays as there are contingency plans by organisations like SCI to take the decision to court...
There will be a worldwide March in March (!) to ask for a ban on captive breeding of lions for "sport" hunting.
With your help, we will continue to lobby the EU Parliament and the EU Commission to place lions on the EU Wildlife Trade Regulations Annex A - resulting in much better protection for the species by EU Member States.
Again with your help we hope to roll out the livestock insurance initiative to a number of pastoralist communities in Kenya to reduce retaliation against a diversity of predators.
We will continue to lobby strongly with the UK Government and participants at the February 2014 Summit on Illegal Wildlife Trade to include lions as a species of great concern.
We will redouble our efforts to have the genetically distinct western African lions classified as a highly endangered subspecies in need of most urgent conservation assistance.
We will continue to work closely with you, our friends dedicated to lion conservation, to put forward any new ideas and initiatives to make 2014 the year that lion conservation turns the corner to make fantastic progress.
Bless you all and thank you, without your help we could not have achieved as much for our young, small but lion-hearted charity!
Let's make 2014 the year of the LION!
xxx
Posted by Chris Macsween at 17:54
No comments have been posted yet.
---
Add a new comment