News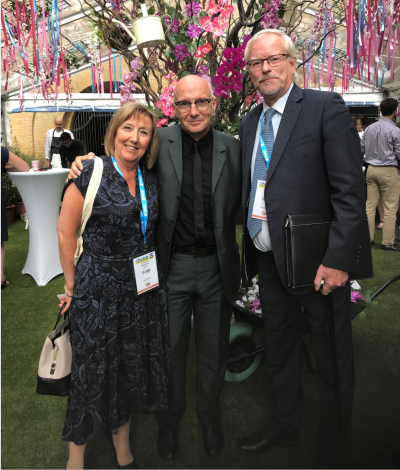 Yesterday we were invited to attend the excellent Chase25 event in central London. So much information on offer to help charities and so many wonderful people to meet. Thank you Chase25 for putting on a very professional event.
The closing address was given by Midge Ure, who I am sure many of you will remember as the co-organiser of Band Aid, Live Aid and Live8. Who can forget the haunting "Do they know it's Christmas" which he composed with Bob Geldof in response to television reports of the 1983-1985 famine in Ethiopia?
Midge talked about how Band Aid, and Live Aid came about and the challenges and obstacles he and Bob Geldof faced as they nevertheless brought so many people together to fight for a common cause. And what a lasting legacy they created.
Today there is another crisis happening in Ethiopia, and indeed across the entire African continent. This time the crisis involves lions.
The species is clinging to existence and as each day passes lions edge closer to becoming only a memory remembered by faded pictures and by their wretched captive remnants available to only be seen through bars in zoos. With less than 15,000 wild lions left now in Africa and less than 200 in Ethiopia – which are also a genetically distinct sub species not even officially recognised – time is fast running out for this magnificent iconic animal.
And with their demise, one of Africa's greatest assets also dies. Ethiopia is steeped in human culture, and is also blessed with fauna and flora unique to the African continent. Yet scant conservation attention and funding has been given to help realise the potential of this magnificent country and the nature-related prosperity potential of the people who live there.
Maybe we need another piece of the magic that Live Aid or Comic Relief or Sport Relief brought us – this time to help the planet not to lose its iconic lions? We also talked yesterday with Kevin Cahill, the Life President of Comic Relief and the Founder of Sport Relief. He gave an insightful presentation about harnessing creativity to make even a single good idea into something viral to help drive big change.
Kevin, Midge, Bob Geldof – these guys became the catalysts for change and their inspiration brought (and still bring) a host of talented people in public life together to combine their many talents to bring about awe-inspiring support for the causes they believe in.
Over the years, we have had the privilege of meeting several famous people from the world of entertainment – some like Ricky Gervais who did a stunning oil painting of a lion for us, and Peter Egan who magnificently compered our Concert for Cecil back in 2015. Wouldn't it be wonderful if we could bring many more such talented people together to raise awareness of what is happening to African lions and to help us raise the funding we desperately need?
With funding in place, there is SO much we could do both in Ethiopia and the other African lion range states to bring this current crisis to an end. And then to ensure lions have the long term survival that they richly deserve. The plans are there,the will is there and now all we need is creative and innovative people to join together to ensure the funding so that the lion's roar will forever be heard on the African savannas.
Click here to add your donation.
Posted by Chris Macsween at 19:33
No comments have been posted yet.
---
Add a new comment