News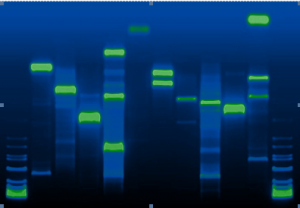 I have been focusing attention on Tanzania lately, but those of you who have been reading my previous posts will know that the biggest immediate problem for the future survival of African lions actually pertains to western and central Africa. Small populations, many local extinctions, and it now turns out the central and western African lions are probably a real subspecies genetically more related to Indian lions than to their continental compatriots in eastern and southern Africa. Is anyone paying attention?
Let's first consider some numbers. Bauer and van der Merwe (2004) estimated a total population of western African lions as 850, and Chardonnet (2002) came up with 1160. Both say the lions exist mostly as very small isolated populations, and all are declining. The IUCN accepted those lions as "regionally endangered" in 2004, even though they misinterpreted the numbers as being "mature" individuals rather than "total" lions.
Now, let's go on from there. The IUCN gave lions in western Africa a regionally endangered status in 2004. A meeting of all regional range state representatives in late 2005 produced a 2006 IUCN report stating considerable concerns. So how did the range states respond? Have a look at the table below to assess lion trophy hunting exports for some of the countries involved and expressing concern at the meeting:
| | | | | | | |
| --- | --- | --- | --- | --- | --- | --- |
| | 2004 | 2005 | 2006 | 2007 | 2008 | 2009 |
| Cameroon | 10 | 19 | 16 | 5 | 3 | 12 |
| Chad | 1 | 0 | 0 | 1 | 1 | 0 |
| Burkina Faso | 14 | 13 | 16 | 15 | 14 | 10 |
| CAR | 0 | 3 | 3 | 9 | 1 | 18 |
| Total | 25 | 35 | 35 | 30 | 19 | 40 |
Not big numbers compared to Tanzania, but still, a total of 184 male lions shot from a highest estimate of 1160 total lions is completely out of order.
Now here's another thing to consider. The IUCN accepted that lions were "regionally endangered" in 2004 as reinforced again by their 2006 report. CITES had one of their 3-year meetings in 2007, and again in 2010. Were those western and central African lions on the agenda? Of course not.
Does the IUCN talk to CITES? Apparently not. Did the IUCN appeal to the EC under their Wildlife Trade Regulations to cease import of trophies of regionally endangered lions? Of course not. In fact, the IUCN has this to say about lion trophy hunting: "Trophy hunting is carried out in a number of sub-Saharan African countries and is considered an important management tool for providing financial resource for Lion conservation for both governments and local communities." What planet do they live on? Is the IUCN just supposed to publish reports and their Red List of species without taking further action? It appears so.
One would hope that with the recent data published by Leiden University about the genetic uniqueness of western and central African lions that some action will be taken. Clearly the IUCN has not been motivated by such important data in the past, and they are even vacillating about accepting clear genetic evidence that "forest" elephants in western and central Africa are very clearly different from "savanna" elephants. Why? Well because the genetically different elephants might be interbreeding where their ranges overlap, so therefore they should be considered as a single species. Wolves, domestic dogs, and coyotes (since they also interbreed) would therefore also be considered a single genetic entity by the IUCN?
We all put our trust in the IUCN and CITES to be proactive in the conservation field. We support them with our taxes. Seems to me it is high time for some resignations, a new broom to sweep out the deadweights, and much needed reform towards a more responsive way forward. After all, what have these organizations contributed except a continued decline in the species entrusted to them?
Leiden genetics paper: Bertola et al (2011) Genetic diversity, evolutionary history and implications for conservation of the lion (Panthera leo) in West and Central Africa. Journal of Biogeography.
Picture credit: http://worldofweirdthings.com/2008/10/30/the-defect-that-makes-us-all-human/
Posted by Pieter Kat at 14:59
No comments have been posted yet.
---
Add a new comment