News
Sunday 2nd September 2012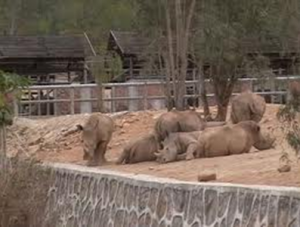 There are strange goings on in terms of the live rhino trade to China from South Africa. This has to do with the numbers of rhinos shipped as acknowledged (and given permits) by the South African authorities, discrepancies between CITES records and South African records, and rhinos that now seem missing from their destinations.
Let's start with the South African "official" records. On 20 April 2012, the Department of Environmental Affairs replied to a question from Mrs S V Kalyan (Question 889 in the National Assembly to the Minister) concerning the number of live rhinos shipped to Asian destinations from South Africa 2007-2010, the names of the exporters and the names of the importers. The reply was fragmentary – the provincial authorities provided some records, and others had to be collected from export records at the Johannesburg International Airport. In total, 72 live rhinos were shipped to China according to the Minster of Environmental Affairs, only 34 of which had any exporter/importer details.
CITES records for that period indicate that South Africa exported, and China imported, 169 rhinos. That would mean something like 57% of the exported rhinos went missing completely, and only 20% had the necessary documents demanded by CITES. This is shameful.
Next, there is the strange case of the missing rhinos in China. From the fragmentary records provided by the Minister, these rhinos were sent to:
1. Changsha Zoo (4 rhinos sent in 2010). A video taken there shows no rhinos present and miserable conditions for all animals on display.

2. Hangzhou Zoo (26 rhinos sent in 2008). A 2009 TripAdvisor Report review indicates terrible conditions for all animals and mentions elephants, tigers, lions and bears. Not a word about rhinos. The Hangzhou Wild Animal World states that they have a pharmaceutical company involved in the manufacture of traditional medicines, as discovered by Peter Dickinson.

3. Kunming Zoo (16 rhinos sent in 2011). The export details from South Africa actually stated that the 16 rhinos went to the Kunming Game Reserve. There is such a place, but it is a transborder reserve established with Laos to protect the last remaining Chinese elephant herd in the region, and to protect indigenous biodiversity. Funded in part by the Asian Development Bank, African rhinos will not have gone there. A video taken in the Kunming Zoo shows the usual depressing conditions for the animals but again not a single rhino in sight.

4. Sanya Park (4 rhinos sent in 2010 according to the SA Minister but allegedly many more). Sanya Park goes by many names and is located in Hainan, not far from Vietnam, a country greatly implicated in the illegal trade of rhino horns. The official name is the "Sanya City Center for the Artificial Propagation of the Rhinoceros". The rhinos appear destined for the "Window of Africa" theme park. A recent report indicates that when a photographer visited the "theme park" all he saw on the Window of Africa was African rhinos in concrete pens – an estimated 60 or so. Where did they come from? Accounting for some of the "missing" rhinos? The Sanya "Greatest World of Love" apparently also received over 100 tigers illegally sent from Thailand to this breeding farm – for more Traditional Medicines? Sanya is implicated in harvesting rhino horns, as reported by Annamiticus.

So there we have just some preliminary information about the strange case of the missing rhinos. Missing on South Africa's Minister of Environment export records, missing in China, but perhaps all present and accounted for in terms of having been "harvested" for their horns. If South Africa is willing to supply 169 rhinos to China over 2007-2010, who needs Chinese breeders? Put them on the plane and harvest them. Who is greater complicit in the great upsurge in poaching involving hundreds of rhinos every year to make up the difference between supply and demand? CITES remains quiet on live rhino trading – maybe they could check the zoos mentioned to see where all those 169 rhinos are?

I'll conclude with one last strange fact. In South Africa, CITES records are "maintained" by the individual Provinces. In answer to the Parliamentary Question to the Minister, Provinces like Gauteng, Northern (Limpopo) and KwaZulu Natal provided some information. The Northwest Province was silent, and information could only be put together to some extent from airport export records. The current Minister of Environment is Edna Molewa as of October 2010. She was Premier of Northwest Province from 2004-2009.

Picture credit: rhino enclosure at Sanya Park, Hainan, China – Africa Geographic Magazine
Posted by Pieter Kat at 18:30
No comments have been posted yet.
---
Add a new comment