News
Wednesday 10th October 2012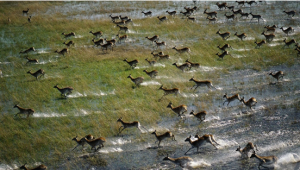 There are some worrying developments in a country widely regarded to have one of the best wildlife conservation records in Africa. In no particular order of importance, these are some of the concerns we have:
• President Ian Khama in a Cabinet reshuffle appointed his former back bench brother, Tshekedi Khama, to the post of Minister for Environment, Wildlife and Tourism. The former Minister, Kitso Mokaila, now has the post of Minerals, Energy and Water Resources, a promotion as his portfolio now handles the highest percentage of Botswana's GDP (diamonds, copper, cobalt, soda ash, etc). Verdict: Mixed. Mokaila, with his Botswana Defence Force background, was often seen by stakeholders as heavy handed in terms of handling tourism ventures and vacillating between appeasing the large companies and the citizen smallholders. If Tseshikedi Khama is as conservation minded as his brother, this could be a good move.

• Recent aerial surveys have indicated that Botswana could have lost 60% or more of wildlife in the Okavango region since the last surveys in the 1990s. Verdict: Uncertain. Aerial surveys are difficult to interpret accurately as they rely to a great extent on extrapolations. The recent survey was conducted over an area greatly changed by significant flooding, and needs to be repeated for better assessment of the data. Nevertheless, the numbers are worrying and have been attributed to fire, drought (the flooding is caused by rivers originating in Angola and do not reflect local conditions) and high levels of poaching. The declines were "unexpected"…

• Botswana instituted a lion trophy hunting moratorium 2001-2004, and again 2007-present. Meanwhile, it appears that large numbers of lions are being shot in Problem Animal Control efforts, unconfirmed reports say there are many dozens (one estimate of 194 in the north) shot. Verdict: Likely. Cattle in Botswana are "free-range" due to the low productivity of soils and low availability of graze on a yearly basis. Lion attacks on cattle are especially heavy during the wet season as their natural prey moves away from permanent water sources and becomes highly dispersed. Cattle owners, despite their miniscule contribution to GDP (2-3%) compared to tourism (12-15%), are a highly potent political voice – many elite in Botswana including Cabinet Ministers own large herds and cattle are culturally revered as a sign of wealth and importance.

• Botswana has been implicated as a provider of live lions to the South African canned hunting industry. Verdict: Likely. A recent report in a prominent South Africa newspaper mentioned that lions and perhaps cheetahs are smuggled into South Africa via cattle rustling routes on the porous Botswana-South Africa border. The demand for wild-born lions is high, as the South African breeders supply a great number of lions to the canned lion hunting industry – CITES numbers indicate that as many as 5,424 lion hunting trophies were exported from South Africa 2000-2010. The breeders desperately need "new blood" and hence support the illegal trade. In addition, CITES records indicate an exchange of lions between South Africa and Botswana.

• Botswana, while maintaining a hunting moratorium, turns a blind eye to lion hunting operations just across the border in South Africa that entice lions from Botswana to cross and be hunted. Verdict: Likely. A hunting organization in Texas advertises lion hunts to clients mentioning that the hunting areas in South Africa's North-West Province share many miles of the border with Botswana. The lions cross over because of the presence of water and cattle, and are shot as trophies for a price of $18,000 to $20,000 – no need to pay the high prices of $80,000 to $100,000 for a lion in Zambia or Tanzania. The company says that success is "extremely high" and provides photographs of trophy males shot.

• Botswana supports game ranching for trophy hunting and meat hunting and a number of ranches have already been established. As the ranchers own the wildlife on their properties, an identical situation to the game ranching situation in South Africa is being established. There are indications that such game ranching could be diversifying into highly profitable canned lion hunting. Verdict: possible. There are indications from CITES records that live captive bred lions are being sent from South Africa to Botswana.
If Botswana is to retain the high marks given for wildlife conservation, changes are both necessary and urgent. These include both policy level changes that could be made by new Minister Tshekedi Khama and ground-level policing by a seemingly rudderless Department of Wildlife and National Parks.
Picture credit: http://www.travelimg.org/red-lechwe-running-across-the-floodplain-okavango-delta-botswana.html
Posted by Pieter Kat at 12:24