News
Tuesday 15th January 2013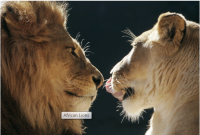 On the 14th January, the International Business Times posted an article entitled "The Lion's Fading Roar: Declining West African Lion Population Hints at Grim Future" by Chandrashekar Srinivasan.
"It was alarming to read new research which suggests that the West African Lion may be on the verge of extinction, with just 645 members of the sub-species left in western and central Africa.
The study, carried out by conservation group LionAid, finds there are no lions at all in 25 of the region's countries, and the animal is virtually extinct in 10 others. In Nigeria, once home to a huge community of West African Lions, just 34 remain....."
Click here to read the full article.
Picture credit: International Business Times
If you have not already signed up to our mailing list, you can add your name here and keep up to date with our ongoing work and, most importantly, financially support us to conserve the remaining fragile lion populations. Thank you.
Posted by Chris Macsween at 13:44
No comments have been posted yet.
---
Add a new comment