News
Tuesday 19th February 2013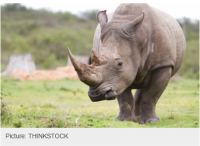 What is going on here?

The Kenya Wildlife Service (KWS) Director was recently visited by a delegation from the Department of Environmental Affairs, South Africa.
"Mr. Marumo [the DEA head delegate] exuded confidence that South Africa and Kenya will speak with one voice during the upcoming CITES Conference of the Parties (CoP) in Bangkok, Thailand next month".

Meanwhile, back in Pretoria, Minister of Environment Edna Molewa on 13th February
"welcomed the recommendation by [CITES] Secretariat that Kenya's proposal to the upcoming 16th Conference of Parties (COP16) to halt the trade in rhino trophies and rhino products until COP18 [2019] be rejected"
according to the DEA. Similarly, South Africa is expected to vote against a proposal by Kenya and other African elephant range states to defer any proposals to allow ivory trading until 2017.


So, to "speak with one voice" does that mean Kenya will abandon those proposals at the upcoming Conference? Or is this just the usual political posturing rather than the necessary straight talk much needed at CITES conferences?
Can the KWS provide clarity especially since the Kenya proposals have already been supported by the EU Parliament and CITES authorities in the Netherlands, the UK, and Chile?
Picture credit: http://bit.ly/Xs165C
Please support us if you can to conserve the remaining fragile lion populations. Thank you.
Posted by Pieter Kat at 14:22
No comments have been posted yet.
---
Add a new comment