News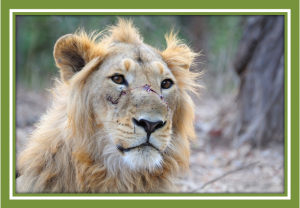 Viruses and politics are not my friends
There has been a rather strange exchange of views in the media recently about a possible disease threat to the Gir Forest lions in India. The Times of India reported that a dead lion tested positive with Peste des Petits Ruminants Virus (PPRV). The article mentioned that PPRV is related to Canine Distemper Virus (CDV) that killed about 1000 lions in the Serengeti in Tanzania in 1994.
The Times of India mentioned that this case was significant for the future survival of the unique lions in the Gir Forest – a small remnant of what once was a widespread lion population occurring in Europe, the Middle East, Persia, Afghanistan and India. It was mentioned that further investigations would be forthcoming, involving the Royal Veterinary College in the UK and the Wildlife Institute of India.
There was an almost immediate response by the Chief Wildlife Warden of Gujarat Province, C.N. Pandey. He said there was little cause for concern, and correctly pointed out that the PPRV case involved a lion that died in 2007 of trypanosomiasis, a disease spread by biting flies. The research paper describing the presence of PPRV in tissues of the lion was published in 2012, and Mr Pandey reported that no lions in the Gir population had been diagnosed with symptoms or pathology of PPRV at any time.
The Royal Veterinary College will send Dr Richard Kock to India in September. He will coordinate with Wildlife Insitute in collecting blood samples from the Gir lions to determine PPRV antibody presence and to determine whether live virus can be isolated from further lions.
Nevertheless, questions remain. It should be noted that the Supreme Court in India recently ordered Gujarat Province to provide lions to an alternative location in Madhja Pradesh Province. Part of the evidence considered by the court was the possibility that the single remaining population of Asiatic lions, if kept in one location (the Gir Forest), would be highly susceptible to decimation by disease outbreaks. Gujarat Province objected and is appealing the decision partly on the basis that the Gir lions bring considerable unique tourism income that would be lost by sending some lions to other locations. Conservation precautions arguing for establishment of lions in more than one location from biosecurity concerns have thus run headlong into a political argument, and the digging up of this PPRV occurrence was seen as scaremongering.
That could well be true. PPRV infects small ruminants – goats and sheep primarily. Antibodies have been found in camels and gazelles, although pathology similar to that of infected sheep and goats has not been described. PPRV is part of a family of morbilliviruses that includes canine distemper among a wide range of carnivore species, measles in humans, rinderpest in cattle, phocine morbillivirus among seals and porpoise distemper virus. PPRV is not known to cause disease among carnivores, and similar incidental and non-pathogenic occurrence of a variety of viruses among carnivores has been described. For example, my research has shown that African carnivores can test positive for bluetongue virus, African horsesickness, Rift Valley fever etc. All of which diseases that do not affect carnivores, yet they show up on their blood profiles. One must be careful in "over-interpreting" results.
I nevertheless urge that diseases among and threatening highly endangered species should be carefully monitored. Gir lions occur in close proximity to domestic dogs, a species integrally implicated in the spread of CDV to lions and other wild carnivores in Africa with disastrous consequences. It is hopeful that blood samples taken from Gir lions will be analysed for a diversity of diseases that could realistically threaten these unique and vulnerable animals - in which case this PPRV conundrum could have a good outcome. And highly endangered species should not be kept in one location where they could be highly susceptible to chance events like disease outbreaks, forest fires and hurricanes.
Picture credit: en.wikipedia.org/wiki/File:Asiatic_Lion_Male.jpg
If you have not already signed up to our mailing list, you can add your name here and keep up to date with our ongoing work and, most importantly, DONATE to support our work to conserve the remaining fragile lion populations. Thank you.
LionAid is proud to be taking part in the very first Big Give Charities Raffle and we hope you will be keen to support us - and be in with a chance of winning fantastic prizes! For full details on the raffle, please click here
ï�§1st prize - £2,000 cash, or a luxury holiday for two
ï�§2nd prize - £1,000 cash
ï�§3rd prize - £500 cash
ï�§10 x runners' up prizes of £50
Tickets cost just £1 (min. 10 tickets) and we shall receive 96p for each ticket bought, with the other 4p going towards the administration costs. A fantastic way to support our ongoing conservation work and to win great prizes!
To buy your tickets on behalf of LionAid now, please click here
Posted by Pieter Kat at 18:46
No comments have been posted yet.
---
Add a new comment