News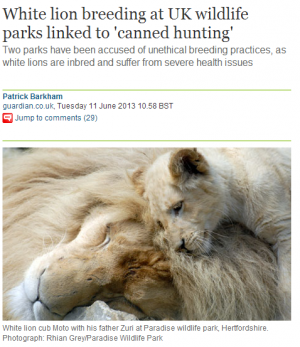 Hopefully this article in the Guardian newspaper (11th June 2013) will end white lion breeding and cub petting in UK zoos. It is not moral, ethical or in any way conservation, and has nothing to do with educating the public about the critical state of African lion populations. The zoos have engaged in the practice because these lions, inbred specifically for the expression of a rare recessive gene, are "cute" and an attraction for the misinformed public. West Midland Safari Park, another UK zoo involved in white lion breeding, even went so far as to sell some of their white lions via an intermediary to a Japanese travelling circus.
Indeed some zoos, bolstered by statements by among others the Global White Lion Protection Trust charity, mislead the public by claiming that white lions are a separate subspecies, and therefore must be "conserved". These organizations even go so far as to say that they are conserving "genetic diversity" by breeding these white lions.
This targeted inbreeding of white lions (and white tigers) in zoos has to stop as the consequences of generations of inbreeding are severe and include skeletal deformities, neurological problems, digestive abnormalities, reproductive problems, and short lifespans. Such consequences are well documented and should not be accepted as collateral damage by zoos aiming to increase their gate receipts.
Further, zoos should in no way support South African lion breeders by buying their white lions – as these breeders also sell the animals to be trophy hunted. The zoo regulatory bodies like BIAZA and EAZA should censure members who keep, breed, and purchase white lions.
Picture credit: http://bit.ly/16m30sV
If you have not already signed up to our mailing list, you can add your name here and keep up to date with our ongoing work and, most importantly, DONATE to support our work to conserve the remaining fragile lion and wildlife populations. Thank you. LionAid is proud to be taking part in the very first Big Give Charities Raffle and we hope you will be keen to support us - and be in with a chance of winning fantastic prizes! For full details on the raffle, please click here
To buy your tickets on behalf of LionAid now, please click here
Posted by Chris Macsween at 11:57
No comments have been posted yet.
---
Add a new comment