News
Friday 13th September 2013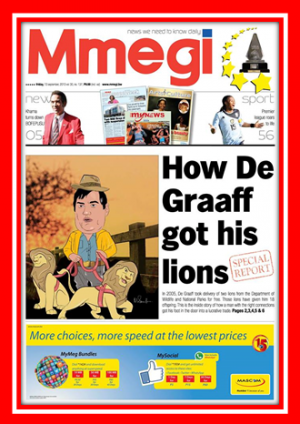 Doesn't captive breeding of lions fall under my Ministry?
Please see this article written by Lawrence Seretse, an investigative reporter for the major Botswana newspaper Mmegi. It reveals how the Minister of Agriculture in Botswana, Christiaan de Graaff, has become involved in captive breeding of lions in Botswana, and then exporting these lions to South Africa to end up in the multi million Rand canned lion hunting industry. It made front page news today.
It is a testament to Lawrence, the newspaper, and the democratic system in Botswana that such an article could ever come out. I know of few countries in Africa, and indeed the rest of the world, where this kind of news involving a senior Minister would be published.
Please be sure to thank Lawrence in the "comments" section of the online article and by sending him a congratulatory e-mail via editor@mmegi.bw – reporters like him do a huge amount for wildlife conservation.
Photo credit: Mmegi Online
If you have not already signed up to our mailing list, you can add your name here and keep up to date with our ongoing work and, most importantly, DONATE to support our work to conserve the remaining fragile lion populations. Thank you.
Posted by Pieter Kat at 14:06
No comments have been posted yet.
---
Add a new comment