News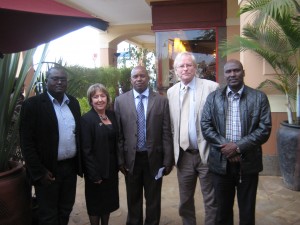 Governor (centre), H.E. Dr. David Ole Nkedianye
On Friday last week, we were pleased to meet with the Governor of the County Government of Kajiado, His Excellency Dr. David Ole Nkedianye.
He took time out of his hectic schedule to talk with us about our new project to mitigate the human/livestock conflict that is responsible for an increasing number of deaths of lions and other predators.
After listening carefully to the details of the project, he asked some searching questions as he sought to evaluate the potential effectiveness of this new proposed solution to a problem that has had many failed mitigation attempts.
The Governor is well aware of these problems as he was born in Kitengela, a conflict hotspot these days as it borders directly onto Nairobi National Park.
We thank the Governor for spending an hour with us to discuss the proposal and we hope to liaise further with him after he has had the time to consider how the Kenyan government might be able to support this new initiative.
Be part of this new concept in lion conservation by donating to this important project. Each and everyone of you can play a part and be justifiably proud of the contribution you have made to ensuring the continued survival of our iconic predator species.
Posted by Chris Macsween at 14:09
No comments have been posted yet.
---
Add a new comment