News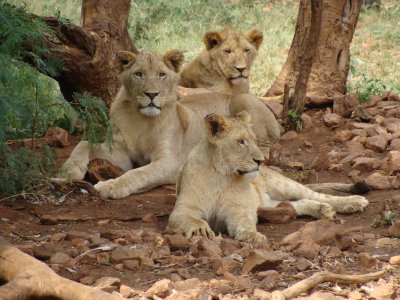 Meant to celebrate survival possibilities for an increasingly endangered species. This has not happened. The first World Lion Day happened in 2012? Or 2013? Many are now claiming they were the "first" to initiate the day. Doesn't matter, as lion conservation has not so far benefited.

Let us first go through the negatives and then suggest a way forward.

Negatives -

1. The clear and apparent dangers to lion survival are many. Poaching of their prey via bushmeat hunting, trophy hunting of the biggest males, a blind eye turned by some of the biggest "conservation" organizations to the lions' plight, no data from African lion range states about current population status. For example – the last national lion census in Botswana occurred 20 years ago, and Tanzania (a supposed stronghold for lions) has never conducted a national survey while allowing trophy hunters to run rampant.

2. Very few countries disallowing trophy hunting imports of lions have made progress among other nations to follow their lead. Not even to disallow trophy hunting imports of sordid South African captive bred lions. Such trophy hunting of captive bred lions is a clear and present danger to wild lions, as is trade in their bones. South Africa has announced that they will shut down the captive lion breeding industry – but now they face lawsuits that could last very many years and there is no proposed solution to the 10,000 or more captive lions living in cages.

3. There is only a whitewash to adequately address the lion/human/wildlife conflict that kills very many lions in Africa. As mentioned above, rampant bushmeat poaching, even in so-called "protected" areas has emptied those areas of natural lion prey. Is there any question as to whether those lions would then turn to livestock? Especially as many African nations seem incapable to prevent livestock from grazing in so-called protected areas?

The way forward -

1. Lions MUST be classified internationally and as a highly endangered species. It is ridiculous for the IUCN to maintain this species just as "vulnerable" on their "Red List". Their latest assessment kept the vulnerable status even though lions in eastern, western, and southern Africa were declining at an increasing pace.

2. African nations themselves must classify lions as nationally endangered and take responsibility to protect the species with their remaining populations as a continental responsibility.

3. There are good and effective programmes to decrease lion-livestock conflict. But these need to integrate with anti-bushmeat poaching now prevalent. Yet funding for lion-livestock conflict is meagre and ineffectual?

4. Instead of a project here or there "saving lions", there needs to be a much better global and African continental approach. Too much donor funding is currently spent on lion projects that promote trophy hunting and projects that claim to take a rural community approach without changing negative attitudes toward lions.

On this World Lion Day, let's call for new approaches, new ideas, new ways forward!
RICHMOND PARK LION WALK
15TH AUGUST 2021
Get walking for LionAid and raise money to protect the decline of one of Africa's Big Cat's The Majestic Lion.
Join us at Richmond Park to walk 12 km:

Derek Cattani (Christian the Lion's photographer and LionAid Trustee) will be there on the day!!
Richmond Park is one of London's eight Royal Parks and a National Nature Reserve. Along with having some beautiful views, along with rare species of fauna and flora.
Lions are being persecuted and will become extinct if we don't come together and act fast. Strong, fearless, majestic, magnificent, iconic, yet human/wildlife conflict, trophy hunting and the wildlife trade in body parts, are some of the continued pressures on this species. Stand by us and support this amazing fundraising opportunity to make a difference.
To register on the Richmond Park Lion Walk, email London@lionaid.org

WALK DETAILS


15TH AUGUST 2021
Starts at 10.30am UK time
Place: Kingston Gate, Richmond Park
You can support this walk by donating here. All monies raised will help us in our fight to save our remaining lions
Thank you!
Posted by Chris Macsween at 17:12
No comments have been posted yet.
---
Add a new comment