News
Latest Lion Aid News
Tag: breeding farms
Tuesday 6th November 2012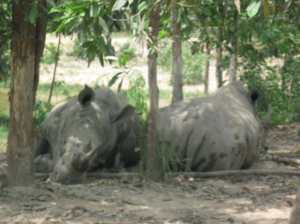 Last week I came upon an article on the VietnamNet website about wealthy individuals in Vietnam with private wildlife collections. These are maintained as a status symbol, and the Education for Nature Vietnam, a local NGO, opposes such "breeding farms", mentioning that such activities should be under proper state control.
One of the private owner/breeders was identified as Le Thanh Than and that name rang a bell. Sure enough, Than has been listed as the importer of two rhinos from South Africa in 2009 and two tigers in 2010 (Department of Environmental Affairs, responses to Parliamentary Questions 767 – March 2012- and 889 – April 2012). Belatedly, South Africa has placed some restrictions on the live trade of rhinos, requiring that such exports occur only to institutions recognized by the World Association of Zoos and Aquariums, and that such rhinos (and one assumes tigers as well) only are sent to zoos with adequate facilities and a conservation agenda, and that have no connections to any trade in body parts.
That restriction would probably eliminate very many "zoos" in Vietnam, Thailand and China.
However, it is very interesting to note which South African traders were involved in such transactions.
Let's start with Thaba Manzi Wildlife Services near Warmbaths in Limpopo Province. They are listed as having sent two rhinos in 2009 to the well-known live animal facility called "Thai Skin and Hide". The import country was listed as China but there is no such organization there. The only match comes from Thailand (of course) where the Thai Skin and Hide Industrial Co. Ltd is located in Samut Prakan near Bangkok. They specialize in leather goods made from cows, stingrays, and crocodiles. Could the Department of Environmental Affairs have made a mistake and did Thaba Manzi send skins to Thailand rather than live rhinos to China? CITES records show no skin exports or live rhino exports to Thailand in 2009 – the last rhino exports were listed as 2005. So the best scenario for Thaba Manzi is to claim that the export documents listed the wrong importer.
Thaba Manzi does run a wildlife export business and their boss is Hans Kooy. He comes with an impressive list of credentials – past Chairman of the Wildlife Translocation Association of SA, was presented the Transvaal Game Association Chairman's Award in recognition of contributions to the promotion and sustainable utilization of wildlife, and was instrumental in inviting welfare organizations to develop closer working relationships with the [wildlife] industry. The Thaba Manzi website has a "game for sale" section that shows three available rhinos (October 12, 2012), exports of rhinos to France, Germany, Spain, etc (no mention of Thailand/China), and a statement that they have an "uncompromising" concern for the welfare of the animals.
Perhaps Hans Kooy could let us know how he ended up on the official SA government list of rhino exporters to Asia?
Let's now go back to the millionaire private animal collector in Vietnam, Mr Than. He sourced his rhinos and tigers to be exported from Mike Bester in South Africa. Bester runs a small zoo in Pretoria ( which has been described by one visitor as "shocking conditions and very unsafe" on Hellopeter.com) and he also has an export company "specializing in the international translocation of non-domestic animals and birds". Bester received some flack for exporting African wild dogs to China some years ago, but he said he had "personally inspected" the facilities at the zoo before allowing them to take their voyage.
Bester is as well connected as Hans Kooy. Perhaps even better, as Bester is both a council member, patron and executive committee member of the African Zoos organization PAAZAB. That organization is supported by many international zoos like the London Zoo, the San Diego Zoo, the North Carolina Zoo, etc etc. Their website states that the "Association upholds modern zoo best practices in provision of the supportive environments for the animals…best practice and ethical standards…trusted centres of animal welfare, conservation, education, research and service". They also state that "PAAZAB may determine from time to time that the keeping of certain species of wild animals as pets … will be unacceptable."
Bester is joined on the PAAZAB council by Jimmy Magill (Endofaun Zoo) who shipped two live rhinos to Baoson Tourism and Construction Group in Vietnam and four rhinos to the Changsha Zoo in China. Our sources tell us there are no rhinos at the Changsha Zoo where other animals are kept in deplorable conditions. Where did the rhinos go? Also on the PAAZAB council is Andrew Eriksen (Cango Wildlife Ranch) who sends live tigers to private collectors in the United Arab Emirates like Sheikh Ahmed Nasser al Mula.
So on the one hand these PAAZAB grandees agree to uphold best practices and ethical standards and on the other hand ship animals to very dubious locations where they are more likely to be valued as pets and for their body parts than for any other reason.
It seems the very lucrative wildlife trade virus has infected very many animal dealers in South Africa. What is PAAZAB or for that matter the South African government doing to properly regulate such trade? Meanwhile all traders profess to have lofty conservation aims? As we extended the invitation to Hans Kooy to explain his actions, we offer Mike Bester, Jimmy Magill and Andrew Eriksen the same courtesy.
Picture credit: http://bit.ly/Sy4J6r
Add a comment | Posted by Pieter Kat at 13:43