News
Latest Lion Aid News
Tag: captive breeding programmes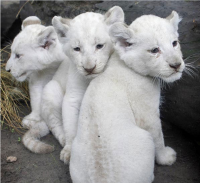 Yesterday, an article appeared in The Sunday Times – Irish Edition revealing the continuing flow of lions (in this case the white variety) from South Africa's captive breeding mills. It is highly likely that the four white lions bought by Tayto (theme) Park will eventually arrive there – the problem preventing their import was not so much the lion trade issue but a suitability issue for the Park to be able to responsibly house them.
As these white lions were specifically bred by commercial breeders, and therefore their private property to be sold, traded, canned hunted, whatever, this trade is all perfectly legal under CITES regulations. But the lion canned hunting industry and the white lion trade would not survive without active buyers. Tayto did nothing wrong legally by buying these cubs on the open market, but is perhaps another "small" example of how the trade in South African wild animals survives – in the case of the white lions (they are white because of a recessive gene) by constant inbreeding. And how this demand is fuelled by the uninformed public who have no idea how these white lion cubs are produced but flock to see them as they are "just so cute"?
The general public should know much more about how the lion captive breeding programmes are run in South Africa – these cubs were sold to Tayto, but could just as easily have been sold to a canned hunting organisation. The mill does not distinguish among clients, just sells to the next available bidder. Tayto Park should not have been involved in the demand cycle, but in fairness, so many other theme parks, wildlife parks, even recognized zoos are using similar buying strategies (especially the cute factor) to increase sales of entry tickets.
You can read the article below. We cannot provide a link as The Sunday Times will not allow access to their news site without a subscription.
Picture credit: http://tigertailfoods.com/wp/wp-content/uploads/2011/01/White-lion-cubs.jpg

"Uproar over Mr Tayto's white lions (John Mooney Published: 15 July 2012 Sunday Times, Irish Edition)

Theme park must undergo inspection before licence granted


THE Department of Arts, Heritage and the Gaeltacht is refusing to allow Tayto Park to import four white lion cubs from South Africa, pending an inspection of the theme park in Co Meath.

Ray Coyle, the park's founder and owner of Largo Foods, the maker of Tayto crisps, purchased the cubs earlier this year from an animal supplier in Pretoria. He is now arranging to fly them to a British or German zoo until an assessment is carried out of his park's suitability to keep the animals. The inspection is likely in September.

The National Parks and Wildlife Service (NPWS), a division of the arts and heritage department, has so far declined to issue Coyle with licences to import the cubs, three females and a male, which is required under the Convention on the International Trade in Endangered Species (CITES).

In a letter sent to the businessman last week, the NPWS said it was "concerned" Coyle had purchased the lions without prior consultation with the department. "It would have been of assistance to all concerned if Tayto Park had contacted the department for advice, which could have avoided a situation which has now developed," the NPWS said.
White lions are the result of a genetic mutation, but not albinism. They were once unique to the Timbavati region of South Africa. Deepak Chopra, the bestselling author, has described them as being like mythical animals.

As few as 100 now remain in the wild where they live in prides of tawny lions, the usual colour strain. Captive-bred specimens are descended from a small number of wild whites, which were trapped in the 1970s in the mistaken belief they were albinos who could not survive in their natural habitats.

Although some white prides still roam the Timbavati region, white lions are now predominately bred on "farms" which supply theme parks, pet dealers and zoos. Some farms provide cats for canned hunting operations, a controversial practice whereby "hunters" are allowed to corner lions in large enclosures and shoot them.

Pieter Kat, a spokesman for Lion Aid, a charity which campaigns to protect the species in their natural habitats, said he believed no zoo or animal park with a focus on conserving species should acquire animals from a South African dealer.

"These animals originally come from normal coloured lions who carry a recessive gene, but the farms that produce them only breed from males and females that carry this white gene," Kat said. "A lot of these white lions are heavily inbred, which causes all sorts of abnormalities. The farms are doing the same thing with white tigers. The breeders in South Africa are producing more and more of these animals to supply theme parks and creatures for canned hunting. There is no conservation value to what's happening here. Purchasing these animals just fuels an unethical trade in big cats."
Jason Turner,spokesman for the Global White Lion Protection Trust, which has reintroduced white lions to the Timbavati region, said inbreeding of white lions in captivity for exploitation through trading and hunting was not conservation. "We do not agree with or support any activity that is illegal, unethical or ecologically irresponsible," he said.

"Since the genetic marker for the white lion has not yet been determined, inbreeding is common within lion-breeding operations, so that they can guarantee white offspring."
The lion cubs were purchased by Coyle using Wildlife Assignments International, a South African company. Charles van Niekerk, a spokesman, declined to reveal where he had acquired the cubs he sold to Coyle. "They are not bought from anywhere that does canned hunting," he said. "We have a confidentiality agreement with the breeders so I can't divulge that information or where they come from."
Van Niekerk also declined to say how much he charged, but insisted they were not expensive. "No one is going to retire out of selling lions," he said.

Coyle claimed he did not know where the cubs had come from, or who had bred them. He declined to say how much he had paid, only that they were "not cheap". He paid half the cost up front, with the rest due on delivery.

He promised to give away any white lion cubs born at Tayto Park to other animal parks. "I don't want to make money by selling lions," he said.

Asked if there was a conservation aspect to his purchase of the cubs, Coyle said he had chosen white lions as they would make a good attraction for the park. "I saw them in England; they looked amazing." "
Add a comment | Posted by Pieter Kat at 16:04