News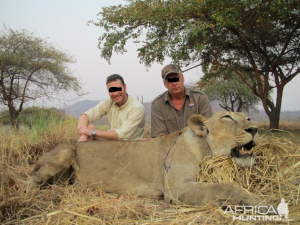 Some time ago, a few African nations, in this case Mozambique, made a big error in judgement. They allowed hunting clients to be recruited by local hunting operators to deal with "problem animals". Some countries like Botswana could immediately see the loopholes and the potential problems, and decided problem animal issues were to be tackled by the wildlife authorities, not the hunting operators. Peter Rettig, on our Facebook site, has shown what shenanigans a problem animal "licence" can create – the operator flies in a client, points out any lion, and says – shoot! Of course, by the time the client has arrived, the so called problem lion is long gone, and it is just an excuse to expand the operator's area quota. It is a devious and reprehensible practice, and I would like to share with you, in the words of an enthusiastic client, how it actually proceeds.
Let's set the stage – here is how the client was contacted:
"Late one evening in September, my friend Bernhard at Nhenda Hunt and Fishing, called me and asked if I Was interested into try to get an female lion that had been snared by the locals, and escaped, but of cause she was very hurt around neck and had severe problem to eat and breath. Finally she couldn't get food at normal way, so cattle and people came on her meny…."
The client was in Sweden. Considerable time passes as he recruits a friend, gets his schedule organized, books a flight, and arrives finally in northern Mozambique. Then he first has to shoot a hippo (ostensibly for lion bait, but it turns out to be a nice big bull – a trophy) and then a big crocodile (they were threatening the fishermen – another trophy), and then the lion hunt is on. In his words:
"Back to camp, food plus rest and around 1700 we took the jeep to check the baits. After 4 hours drive we checked all baits and no hit, we decided to go back to camp, and after 20 minutes PH Walter braked hard and went out to check to new tracks in our 4 hours old car tracks.... HYENA, LEOPARD and 2 BIG BIG lions ! We drove very slowly, and after 30 minutes we could see back side from one lion. Stopped the jeep and jumped out, walked about 50 meters from jeep, and started to make sound like a hurt duiker ! In 2 minutes SHE came and yes she came running, no fear of anything and about 30 meters in front of us she stopped and turned a little bit to the side, and PH whispered : SHOT , Anders fired immediately and I want more than 1/2 sec after, SHE jumped straight up in the air and that growl I will never forget ! We started the jeep put all lamps on, 2 guys on the back of jeep with spotlights, and we slowly started to walk against the lion, suddenly, we heard the other lion call, and now we was really exited, one lion that we shot at and another one also couldn't see, but hear very well. After 40 meters we could see the big lady on the ground, PH told Anders to shot her once more and about one feet back from the eye, but Anders made little misstake of feet and inch, and shot her 1 inch behind the eye. We came up to her and she was enormous, and suddenly our game ward shouted : LION LION ! we looked in the direction of his spot light, and 3 rifles were aiming, and when animal came out from the bush it was a beautiful silverback jackal ! We took some pictures of the lioness, and then 6 guys to get lion on jeep, and back to camp ! What a day ! After these first 4 days we moved to head camp " NHENDA " ( Home of Lions ) and my self hunted one 4,9 meters croc + one Chobe bushbuck 16,75 inch.... but this is another story ! Dear fellow hunters, be carefully out there and God bless."
So let's have a bit of analysis here. He leaves the camp at 1700. At about 2200 a lion (back side) is spotted. It is now pitch dark, and spotlights are used. A female lion is shot. Another lion is in the vicinity, but never shows itself, though the intrepid hunters are prepared. Tanzania and I guess Mozambique allow the use of baits to bring lions to the hunters. But never is it allowed to use spotlights and trophy hunt at night. But this was a "problem" lion, so no holds barred.
But did the saviour-hunter shoot the right lion? OK, the sex was right, it is indeed a female. So far so good! But now look at the picture above again. The lioness caught in the snare was "badly" hurt around her neck. Looks fine to me? She had "severe problem to eat and breath. Finally she couldn't get food at normal way, so cattle and people came on her meny". In the picture, this is a perfectly healthy lion. Well muscled, not a trace of emaciation, a beautiful animal until she drew her last breath.
Indeed, one of the comments on the hunting report asked if the client was sure it was the right lion?
His reply:
"Jepp, lion was snared by natives, and was badly damaged around neck and throat, however when we inspected the "Queen" we could see that she got rid of the metal snare, and wound was healing well. BUT when cats and bear gets taste of humans, there are no alternatives.... This lioness was one of few to be able to get CITES so it can be exported to Sweden".
Hmmm. The snare is now magically off, the wound (where in the picture?) was healing, and now this lion had been eating humans?
So there you have it. I have always been against hunting clients paying money to be involved in problem animal control. This guy faffed around in Sweden, faffed around getting on a plane, faffed around shooting hippos and crocodiles, and then shot the first lion he saw. Typical, but I'm sure he will get a medal. God bless.
Posted by Pieter Kat at 13:46
No comments have been posted yet.
---
Add a new comment