News
Latest Lion Aid News
Tag: lion trophy hunting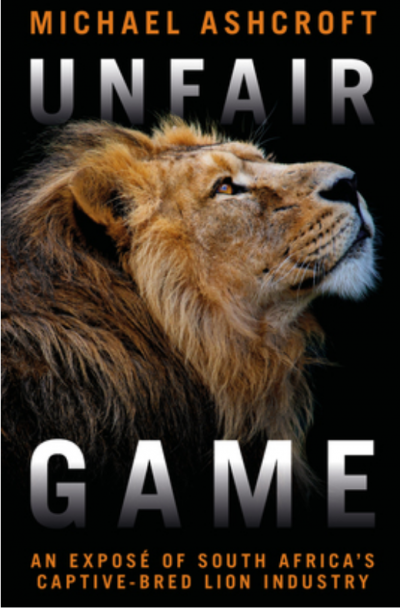 We are very pleased to say that over the past year, our opinions were regularly sought during the research for this important book and this resulted in many conversations and valuable discussions on the topic. We were very happy to add our contributions to the finished volume and very pleased we could be of assistance in highlighting this shocking trade.
SEE BELOW FOR SPECIAL PROMOTIONAL PRICE FOR OUR SUPPORTERS!!
Today, Lord Ashcroft's new book "Unfair Game" becomes available to purchase from Biteback Publishing.
In their own words:
"In April 2019, Lord Ashcroft published the results of his year-long investigation into South Africa's captive-bred lion industry. Over eleven pages of a single edition of the Mail on Sunday, he showed why this sickening trade, which involves appalling cruelty to the ˜King of the Savannah" from birth to death, has become a stain on the country.
Unfair Game features the shocking results of a new undercover operation Lord Ashcroft has carried out into South Africa's lion business. In this powerful exposé, he highlights the increasing dangers to public health which lions and their body parts pose. Just as China's wet markets are widely considered to have led to Covid-19, some experts predict that the rampant trade in lion bones will spark another major health crisis.
The book also shows how wild lions are being captured to widen the gene pool of the country's 12,000 captive-bred lions; details how tourists are unwittingly being used to support the abuse of lions; and demonstrates why Asia's insatiable appetite for lion bones has become a multi-million-dollar business linked to criminality and corruption which now underpins South Africa's captive lion industry."
You too can now read this important book and we are delighted to say that the publisher has offered our followers a special discounted price to purchase this book.
You can purchase the book here
The book costs £14.99 but if you simply enter the code 'LA47' when prompted at the checkout, you will receive the special price of £11.99.
This book will add to the growing call for the UK to ban the import of lion hunting trophies. If you haven't already done so, please sign our online petition calling on the UK Government to bring in this much needed ban. At the time of writing, this petition already has a massive 647,666 signatures. Let's get it to ONE MILLION and show the UK Government the utter strength of feeling against the despicable lion hunting trade.
Click here to access the petition

Add a comment | Posted by Chris Macsween at 15:58