News
Wednesday 25th April 2012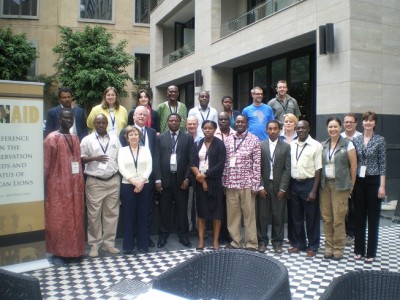 Following a very successful and landmark LionAid conference on the conservation needs and status of African lions in Johannesburg on the 29th and 30th March, we are delighted to now publish the Action Plans agreed by the delegates.
The Management and Scientific Authorities of seven African lion range States attended as follows:
Cameroon, Ethiopia, Kenya, Malawi, Mozambique, Nigeria and Senegal.
We now very much look forward to working with all these African lion range States to initiate regional and pan-African lion conservation measures to halt current catastrophic population declines in this iconic species.
We would like to thank Defra and the UK Government for granting us the funds without preconditions to hold this conference.
LionAid has been asked develop National Lion Conservation Plans with all these lion range States. This places us in the responsible position of coordinating and facilitating overall lion conservation and management programmes, and we will soon proceed to responsibly address this remit.
ACTION PLANS
All lion range States that have not developed their National Lion Action Plans for lion conservation and management in a structured and coordinated way, to urgently do so by April 2013. Such coordination of the Action Plans to be undertaken and facilitated by LionAid.

The lion range States that practise consumptive utilisation of lions (e.g. trophy hunting) to ensure adherence to best practices of sustainability and transparency, and shall regularly monitor utilized populations.

The lion range States to propose to the IUCN to review the listing of the African lion with a view to upgrading the species to "endangered" status. LionAid to facilitate.

The lion range States to request UNESCO to consider the lion as a World Heritage Species, once the criteria and process has been established and a proposal for listing has been submitted. LionAid to facilitate and inform.

The lion range States to share intelligence with regional law enforcement agencies on illegal trade, e.g Lusaka Agreement Task Force (LATF) and INTERPOL.

The lion range States to establish a database along the lines of the Monitoring of Illegal Killing of Elephants (MIKE) programme of the Convention of International Trade in Endangered Species of Wild Fauna and Flora (CITES) for the illegal killing of lions, and keep accurate records on legal killing of lions associated with problem animal control measures and trophy hunting. Such records about legal killing to be made available by approval from and on request to the individual lion range State.

The lion range States to develop standardized data collection methods for lion population monitoring; currently it is difficult to accurately compare among methods utilized by the range States and results obtained thereby.

The lion range States to continue to engage in discussion regarding the correct and appropriate listing of lions on CITES (whether Appendix 1 or 2) as new information regarding the impact of trade becomes available.

The lion range States that have not yet done so are urgently encouraged to provide input into the ongoing CITES Lion Periodic Review process being led by the CITES' Animals Committee representatives for African region.

Cognizant of current trans-boundary conservation plans, the lion range States to collaborate fully on trans-boundary lion conservation programmes/initiatives for shared lion populations, and to incorporate trans-boundary lion population needs in their National Lion Action Plans.

The lion range States to regularly assess progress of current lion research programmes within their countries as to their relevance to national needs and priorities, and to engage in a tender process to invite specific research on lions within subjects identified by the range states.

The lion range States to encourage data collection in research areas of feline disease and genetics in addition to the ecological and human/livestock conflict dimensions of lion conservation.

The lion range States and LionAid to pursue urgent mobilisation of resources to achieve the above resolutions. The lion range States to identify national and trans-boundary programmes according to their identified priorities for funding submissions facilitated by LionAid.

The lion range States to engage with neighbouring range States/regional range States to constructively collaborate on best ways forward to ensure the long-term survival of lions. Consideration to be made by range States to hold a series of small scale conferences among neighbouring range States to develop and implement regionally cohesive and regionally appropriate lion conservation strategies facilitated by LionAid.

The lion range States to call for regular pan-African conferences to report progress on the above Action Plans, identification of new needs based on emerging data, and to determine overall continental best ways forward to ensure the conservation and management of the species. The next of these to be held in April 2013.

Posted by Chris Macsween at 17:33
No comments have been posted yet.
---
Add a new comment