News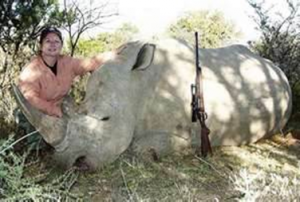 Kenya recently proposed to CITES to have a trophy hunting moratorium placed on South African white rhinos. The proposal will be considered at the upcoming CITES Conference of Parties in Bangkok in March 2013 and if approved, the moratorium will be instituted until 2019.
In the proposal Kenya mentions that despite some progress made by South Africa in instituting more demanding control measures including development of an electronic database for licence applications, mandatory registration of existing rhino horn stockpiles, developing bilateral treaties to improve law enforcement, increasing penalties for those caught, improving intelligence gathering and sharing, better customs control, etc, etc – the rate of rhino poaching continues to increase. In 2010, 333 rhinos were poached, in 2011, 448, and there are predictions that 2012 could end with perhaps 590 rhinos killed. Kenya is of the opinion that such poaching has resonated across borders and that the recent upsurge in rhinos poached in Kenya is directly linked to a problem made in South Africa.
Kenya acknowledges that rhino poaching should jointly be addressed by the implicated consumer states – China and mainly Vietnam – including measures to much more rigorously curtail the activities of criminals involved in the illegal trade. Various reports coming from independent investigators have shown that rhino horn products and horns themselves are widely available and traded in Vietnam. A joint solution seems well over the horizon, hence Kenya's proposed moratorium.
Kenya has expressed great concern about the very strong possibility that South African hunting trophies offer a legal pathway for criminal networks to obtain rhino horn, to launder illegal rhino horn, and that the trophy hunting loophole stimulates overall demand for a product that should not be involved in any trade in the first place.
It is clear that rhino trophy hunting has been greatly abused, and in many cases falls into the category of "pseudo hunting". Such hunting only is available for the 25% of white rhinos in South Africa that are in private hands, but has shown a great surge in "popularity" in recent years among Vietnamese "hunters". Permits are issued by the provincial authorities and many cases have been recorded where "hunters" arrived who did not own guns, had not shot a gun before, and in one famous case were recruited from the ranks of Thai prostitutes working in South Africa.
In addition, while CITES prohibits any commercial use of trophies, this is clearly ignored in Vietnam where the purpose of the hunt is not the trophy but the products that can be derived from the horn. CITES recently asked Vietnam to account for the trophies imported – rather like asking someone to account for their imported caviar long since consumed. Already there seem to be glaring discrepancies – TRAFFIC reports state that 657 horns were exported from South Africa while Vietnamese import numbers only record 170. Also, Vietnamese "hunters" spent an estimated $22 million on rhino hunting permits between 2003 and April this year when South Africa decided not to issue further permits to Vietnamese nationals. Between July 2009 and April 2012 185 Vietnamese came to South Africa to shoot rhinos (and not a single other species), comprising 48% of the total number of rhino hunters from the rest of the world.
It seems impossible for South Africa not to notice this trend and put two and two together – flocks of "hunters" descending from a country known to be predominantly involved in the illegal trade of rhino horn suddenly gaining a great interest in trophy hunting? And then, as the trophy "hunting" by those Vietnamese took off in 2006 also not to notice that there was a possible link to the ever increasing rhino poaching levels 2007/2008?
The Kenya proposal was sent to various parties for review prior to submission. South Africa (not surprisingly) did not support the proposal citing a violation of that its sovereign rights. Namibia also opposed on the basis that the proposed moratorium would not "add value" to the conservation of the species but did not explain further. Those replies are entirely predictable and do not address Kenya's valid concerns to close a glaring loophole that contributes directly to and stimulates the illegal trade. What was more surprising was that the IUCN African Rhino Specialist Group (based and perhaps biased in South Africa) also voiced several lines of opposition including that it would cause financial losses to the private owners.
South Africa's decision to prohibit Vietnamese nationals from gaining rhino hunting permits took time and was openly discussed before it happened. Not surprisingly, those making huge financial gain from the pseudo-trophy hunting business anticipated such restrictions and made alternate plans – and may have had such plans already in place before the restriction. LionAid has frequently commented on the rapidly growing rhino trophy import numbers to other countries that, like Vietnam, seemed to have little or no interest in rhino trophy hunting before 2005. Kenya commented on these as well – the Czech Republic (rhino trophy imports 2000-2004: none, 2005-2010: 21), Poland (2 and 22), and Russia (13 and 118). Denmark is also interested: 2 trophies 2000-2004 and 36 trophies 2005-2010. The South African Department of Environmental Affairs has now seen a rise by 300% of trophy hunting applications from the USA in 2012 compared to 2010.
Making the assumption that the products of pseudo-trophy hunts are ultimately destined for Vietnam, there is a clear circumstantial line of evidence connecting applications for rhino hunting permits by residents in such seemingly disparate countries – their resident Vietnamese communities. The USA has the largest immigrant Vietnamese population numbering well over 1.5 million mostly residing in California and Texas. Poland has the third-largest Vietnamese community in Europe after France and Germany (both those countries also import rhino horn trophies). Russia could have as many as 150,000 Vietnamese residents. The Vietnamese are the largest immigrant community in the Czech Republic with about 83,000 residents – and the Vietnamese lead nationwide drug-related crime statistics. A Polish member of CITES informed us earlier this year that all rhino trophy horns recently imported into Poland have now been reported as "stolen". Following a number of recent incidents involving rhino horns being pilfered from Czech museums and institutions, the police issued an alert to other European countries to maintain extra vigilance.
While such connections between rhino horn traders in Vietnam and Vietnamese immigrants in other nations can only be alleged, there does seem to be a pattern. It could be further investigated by determining whether those so recently interested in joining the ranks of eager rhino trophy hunters in Russia, Denmark and the Czech Republic are still in possession of their legally acquired CITES trophies? And perhaps this same level of scrutiny could be applied to the USA as well? Or, as seems the case in Poland, have many such trophies disappeared into the mists of unexplained thefts?
Image: huntinginafrica.co.za
Tags: Hunting, CITES, Kenya, South Africa, China, IUCN, Vietnam, Poland, TRAFFIC, white rhinos, Czech Republic,
Categories: Traditional Medicine, Trophy Hunting, Illegal Wildlife Trade
Posted by Pieter Kat at 12:46
No comments have been posted yet.
---
Add a new comment