News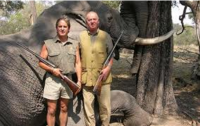 It was announced today that President Khama will stop all hunting in Botswana (citizen and tourist trophy hunting) in 2014. This comes on the heels of a lion hunting moratorium in 2008. The reasons behind the decision are the great loss of wildlife in the country in recent years, an increase in elephant poaching, and a lack of continued belief that trophy hunting is an overall component of wildlife conservation. This will be a blow to the efforts of the trophy hunting operators who have mounted a very strong campaign in the media and with their lobbyists (some of whom are in official positions) to keep trophy hunting alive. In fact, one newspaper at least, the Ngami Times, has come out with an endless stream of articles and editorials touting the great benefit of trophy hunting based on nothing more than false premises by the trophy hunting community. The trophy hunters did get a one-year reprieve (the ban was expected this year) to wrap up their operations with their last hunting season in 2013.
It is now to be hoped that Botswana will also take a careful look at photographic tourism to determine whether those profits benefit the communities and the Batswana equitably.
It is very important to recognize that with this move, Botswana has broken ranks with the other southern African countries which continue to stubbornly promote trophy hunting as contributing to wildlife conservation and alleviating rural poverty despite all information to the contrary. It could be that Zambia might place a moratorium on hunting, it is perhaps already too late for Zimbabwe where trophy hunting continues unabated to the virtual destruction of wildlife, and meanwhile Namibia continues to avidly promote hunting. South African hunting largely involves ranched species, but in Tanzania 94% of the reason why hunters are not able to "collect" their desired trophies like lions is due to overhunting in the past.
So well done Botswana to recognize that wildlife is a national heritage that does not belong on the walls of overseas trophy rooms to the benefit of foreign operators.
Picture credit – King Juan Carlos hunting in Botswana – elephantjournal.com
Posted by Pieter Kat at 12:50