News
Friday 14th December 2012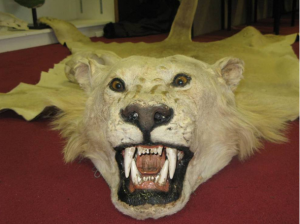 A recent announcement in The Namibian, a national newspaper, indicated that the Ministry of Environment and Tourism is considering granting trophy hunting concessions within some national parks from 2013-2017 The article states that the decision would be made to promote black economic participation and increase benefits to the communities:
"The concessions to be granted are for eastern Kavango, the Mangetti National Park in western Kavango, part of the Bwabwata National Park, the Waterberg Plateau Park, in the Daan Viljoen and Von Back Game Parks, as well as part of the Namib-Naukluft Park.

The species to be hunted include elephant, leopard, roan, spotted hyaena, blue wildebeest, duiker, steenbok, buffalo, hippopotamus, crocodile, sable, lechwe, eland, giraffe, Hartman zebra, kudu, impala, eland, warthog, oryx and klipspringer.

The ministry said trophy hunting removes mostly old, post-reproductive animals or single males, which are usually in excess in natural populations.

Controlled hunting is thus viewed as sustainable use of wildlife populations.

Namibia's trophy-hunting industry ranks third in Africa after Tanzania and South Africa. It is in strong competition with Botswana, Zambia, Zimbabwe, and Mozambique."
This is a controversial decision, but not a surprising one given Namibia's increasing engagement with the trophy hunting industry.
Let's start with the controversial aspects. First, the Mangetti National Park (small at 420km2) and the Bwabwata National Park (a bit larger at 6,100km2) are part of the Kavango-Zambezi Transfrontier Conservation Area that includes land in Angola, Botswana, Namibia, Zambia and Zimbabwe. The KAZA TFCA was launched in March 2012, and signatories are bound to consult with others in terms of common approaches to the protected areas and tourism development. None of the other nations allow trophy hunting in national parks de jure, although the de facto situation in especially Zimbabwe could be different. Therefore, an independent decision by Namibia to allow trophy hunting in those national parks part of the KAZA TFCA could well be seen as a breach of the terms of the Memorandum of Understanding and open to legal challenge.
Second, the Waterberg Plateau Park was established as an eland sanctuary of 405km2. To now allow eland hunting in that area seems contradictory to the reasons to establish the park in the first place. Waterberg is a popular walking/backpacking area as there are no large predators, and allowing trophy hunting would seem counter to common sense, conservation and safety.
Third, the Namib-Naukluft National Park is already engaged in highly controversial activities like uranium mining, so why add trophy hunting? A report published September 2012 indicates that the open-pit mines were approved by the Namibia MET while clearly in contravention of environmental impact assessments. Further, mining and the resultant radioactive waste piles has adverse health effects and future risks, contributes to water pollution in an area of huge water scarcity, and shows little commitment by the Namibian Government to ensure anything but short-term gain over long term loss.
The same could be said about the decision to allow trophy hunting in protected areas. But this does not come as a surprise. The Minister of Environment and Tourism, Ms Nandi-Ndaitwah was recently presented with a "Sports Shooting Ambassador Award" by the German pro-hunting lobby CIC (International Council for Game and Wildlife Conservation). Ms Marina Lamprecht of the Namibia Professional Hunting Association (NAPHA) was similarly honoured. Nandi-Ndaitwah was so moved by the award that she was motivated to say "Come to Namibia and hunt. By hunting you help Namibia to keep its wildlife for future generations." And now she has opened up more hunting areas, within national parks, to ensure that wildlife is around for future generations?
Not to be outdone, NAPHA gave a recent "big" award to John Jackson III, CEO of Conservation Force and past President of the USA Safari Club International – both of which are pro-hunting lobbying organizations. John is a lawyer of note, and promotes the right for US hunters to go to foreign countries to add all manner of species to their trophy rooms. In Namibia, he is attempting to "correct" the US Fish and Wildlife Service (the USA regulatory agency) ban on importing cheetah and black-faced impala trophies, both listed as highly endangered. Hence the award – perhaps in hope that he will redouble his efforts to allow US citizens to trophy hunt cheetahs in Namibia?
NAPHA gave a similar prize awarded to and accepted by Chris Weaver of the WWF, a conservation organization. WWF has long been involved in supporting the community conservancy concept in Namibia that allows trophy hunting of cheetahs, lions and all manner of other species. One hopes that WWF is equally supporting non-consumptive tourism initiatives?
In summary, Namibia needs a significant amount of introspection. Should hunting and uranium mining be allowed in national parks or should the national parks be de-gazetted to legally allow such activities? Is Namibia a partner in conservation with other member states of the transfrontier initiatives or can the MET independently decide practices that other signatories of the Memorandum of Understanding might not agree on? Is Namibia so enthralled with the short-term profits from trophy hunting that this practice is now to be extended across community conservation areas and national parks? Trophy hunting of lions has already been shown non-sustainable at current levels by LionAid and local researchers. Perhaps the international conservation and non-consumptive tourism community also approach Minister Nandi-Ndaitwah with a few prizes to ensure she gains a more balanced approach?
Posted by Pieter Kat at 14:39
No comments have been posted yet.
---
Add a new comment