News
Wednesday 9th January 2013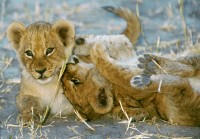 Minister announces end of lion trophy hunting in Zambia. Government meeting just ended. We were phoned from the meeting room! Whoop!
LionAid has been working behind the scenes with good people in Zambia to bring this about.
We are due to go to Zambia in February to discuss next moves - funding permitting.
Please help us if you can. You can donate here
If you have not already signed up to our mailing list, you can your name here and keep up to date with our ongoing work and, most importantly, support our work to conserve the remaining fragile lion populations.Thank you.
Posted by Chris Macsween at 11:57
No comments have been posted yet.
---
Add a new comment