News
Sunday 10th February 2013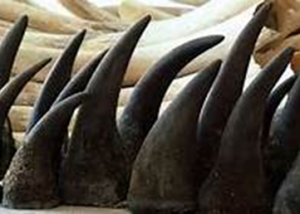 In preparation for the upcoming CITES Conference of Parties, much activity has already taken part behind the scenes. I will report here some activity on the part of CITES that will form three separate articles – one on rhino horn, one on elephant ivory, and one on polar bears.
Let's begin with the rhino horn trade. TRAFFIC estimates that 4063 rhino horns were illegally exported from Africa 2009- September 2012. Only 2.3% of those horns were intercepted and seized.
South Africa allows rhino trophy hunting of animals owned by private individuals. We have all been aware of the extravagances allowed by CITES via this loophole. TRAFFIC estimates that between 2006 and 2010 a total of 607 rhino hunting trophies went to Vietnam, and that the South African authorities even approved hunts by Thai sex workers who had never shot a gun before. Massive fraud in terms of the legal trade in other words.
Further massive fraud indicates that CITES only recorded 154 trophies as imported to Vietnam versus 607 that left South Africa for that country, and that the Vietnamese authorities recorded a further lesser figure of about 104 imports. So only 17% of 607 CITES trophies emanating from South Africa were recorded as legally imported to Vietnam.
CITES, faced with these alarming statistics, decided to demand a report from Vietnam as to where all these imported trophies were now. After all, a trophy imported with a legal CITES permit is prohibited by CITES to be then used for commercial purposes. Vietnam delivered their report in September 2012, and the CITES Secretariat actually thanked Vietnam for their "comprehensive" report.
What the report said was that "authorities" had visited 40 "hunter-importers" in a stellar effort to determine what had happened to their rhino trophies. Eleven were not at home and were not then interviewed on a second occasion. Seven had the trophies available to be inspected. 22 said the horns had been cut up either to give bits to friends and relatives; or made into products like cups; or said they had lost their horn; or said they had been stolen. Meaning that 82.5% were suspect in having traded rhino horn products illegally after having received them by CITES dispensations.
In addition to having provided the CITES authorities with this "comprehensive" trade report, Vietnam said they had absolutely no evidence that rhino horn products were being sold within their country. This is contrary to all independent investigations that show rhino horn is freely available and in great demand on street and private markets. This is like Los Angeles authorities saying they have no evidence of any illegal drug trade in their city?
So 83% of South African rhino horn legal exports to Vietnam go missing to begin with, and then the remaining 82.5% of those who received legal rhino horns in Vietnam cannot say those horns have not been entered into illegal trade.
CITES did not question South Africa about the reason why their authorities were so lax in enforcing laws about legal rhino trophy hunting. Instead, CITES also commended South Africa for taking measures five years too late to attempt to close the loopholes.
Also, CITES would deny that by offering a legal loophole to the demand of rhino horn that this would in any way have repercussions on the incredible increase in poaching of rhinos over the past five years. CITES is well versed in these kinds of denials as they still cannot see a parallel between the CITES approved legal sale of ivory in 2008 and the huge wave of elephant poaching that resulted. CITES is apparently not capable of monitoring the volume of "legal" trade in ivory in China versus the weight of ivory legally sold in 2008. CITES has also not asked China to account for illegal sales while all evidence is that intercepted ivory is largely bound for China.
Despite this lack of due diligence, the CITES Secretariat has now decided to recommend a negative vote to the Kenya proposal to place a moratorium on rhino trophy hunting exports from South Africa. They say this is because it would impose great financial hardship on the private rhino breeders, supposedly greatly involved in rhino conservation while only meanwhile breeding rhinos for commercial gain by shooting them as trophies largely in the past for the Vietnamese market.
We have concerns about this. The CITES Secretariat is supposed to be a neutral entity, and thereby not really entitled to voice opinion about Member State proposals to the Conference of Parties. CITES is in our view now exercising undue influence, lack of diligence, and strangely divergent actions contrary to their policy to ensure that trade in wildlife will not negatively affect conservation.
CITES needs to decide whether they are going to continue to be part of the problem or part of the solution. It seems they continue to be the former. CITES also needs to decide, at a very basic level, why they should promote any trade in wildlife products. At the end of the day, the world community really does not need ivory, rhino horns, lion bones, python skins, dried seahorses, deep sea corals, animal hunting trophies and shark fins? This is all indulgence, luxury, excess and extravagance contrary to conservation policies.
CITES is supported by taxpayers – you and me. Perhaps we should ask CITES perform better or otherwise be sure to turn out the lights when they vacate their offices.
Picture credit: http://bit.ly/14LVdng
Please support us if you can to conserve the remaining fragile lion populations. Thank you.
Posted by Pieter Kat at 14:06
No comments have been posted yet.
---
Add a new comment