News
Saturday 16th February 2013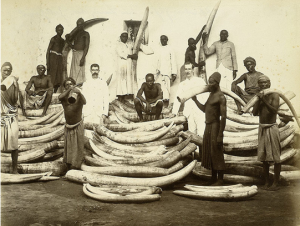 No Chinese involved?

In 1989 the trade in ivory became illegal, and a ban was imposed. No more trade, no more sales.
CITES decided to overturn that ivory ban by allowing two sales of stockpiled ivory. In 1999 (ten years after Kenya burned ivory stocks in a protest against sales of ivory decimating elephants) CITES allowed the first legal sale to Japan, and in 2008 allowed stockpiles from Botswana, South Africa, Namibia and Zimbabwe to be sold to only two nations - Japan and China.
Those sales have been criticized as contributing to elephant poaching as there was now confusion as to whether ivory was legal or illegal. China still claims today that all in-country ivory sales from hundreds of ivory carving factories come from the 62 tons of "legal" ivory received in 2008. Others say that 90% of ivory sold in China comes from poaching.
Now comes another twist to this CITES story. After those two "one off" sales, CITES is still approving ivory to be exported to a number of countries. Trophy hunters successfully lobbied to have elephant trophies exempted as part of the CITES "personal and household effects" derogation, meaning that trophy hunted ivory had a special exemption from trade. Trophy hunters are not allowed to sell their tusks, but it is increasingly becoming apparent that this is exactly what is happening. After all, with a street value of $4,000/kg in China, who could resist making a quick profit?
Looking at the CITES trade database, it appears that in addition to such trophy hunted ivory, elephant tusks have been exported by the kilogram and individually – with no indication that such tusks fall under any exemptions.
For example, CITES numbers show the following:

1. Tanzania – 2005-2010 - 720 tusks exported (in addition to hunting trophies).

2. Namibia – 2005-2010- 437 tusks exported (in addition to hunting trophies).

3. South Africa – 2005-2010 – 90kg tusks to Portugal and 1100 tusks exported (in addition to hunting trophies).

4. Zimbabwe – 2005-2010 – 234 kg tusks to Austria, 17 kg tusks to Belgium, 90 kg tusks to Canada, 196 kg tusks to Germany, 2772 kg tusks to China, 51 kg tusks to Denmark, 22 kg tusks to Spain, 83 kg tusks to France, 33 kg tusks to UK, 32 kg tusks to Hong Kong, 150 kg tusks to Italy, 106 kg to Poland, 52 kg to New Zealand, 38 kg to Portugal, 124 kg to Qatar, 1834 kg to USA. Read those numbers carefully – those are all tusks sent by the kilo. In addition Zimbabwe exported 2446 tusks (in addition to hunting trophies).
So just those four countries have somehow managed to export 4704 tusks and at least 5924 kg of tusks in addition to their trophy hunting ivory exempted by the personal and household effects derogations?
Adding in the trophies, I would estimate that amounts to 6,800 elephants exported 2005-2010 from just four range states. You might say that's not much compared to the 25,000 elephants poached in Tanzania over the past three years, but the difference is that these 6,800 elephants were all killed with some veneer of legality.
How is this allowed by CITES? Perhaps the recent and very controversial export of elephant calves to China by Zimbabwe can provide some indication. In that instance, Zimbabwe CITES authorities approved the export permits, approved the destination zoos, and stamped all necessary documents. The CITES Secretariat had nothing to say about the terms and conditions of this very dubious export and were in all likelihood not consulted. In other words, local CITES authorities are a power unto themselves and with their stamps can approve all manner of transactions that can at best be called very loose interpretations of CITES guidelines. Add some possible corruption to the mix and you end up with a poisonous recipe.
We perhaps see CITES as an organization setting rules so wildlife trade can be monitored and regulated. But the Achilles heel of this organization seems the local offices with their rubber stamps. As seen with the pseudo–hunting loophole provided by South Africa for rhinos and the subsequent stream of "legal" rhino horns to Vietnamese consumers, there is a lot wrong with this formula of devolved authority.
We clearly identify poaching and illegal wildlife trafficking as crimes. Perhaps we should also be looking much closer at how the rubber stamps are abused. If CITES cannot control their own local authorities, how can they be expected to have any measure of success in preventing international trade abuse?


Picture credit – Wikimedia Commons
Please support us if you can to conserve the remaining fragile lion populations. Thank you.
Posted by Pieter Kat at 14:11
No comments have been posted yet.
---
Add a new comment