News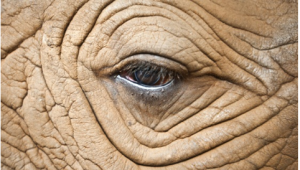 Keeping my eye on you Edna
During the past CITES meeting in Bangkok, South Africa kept pushing for the legalization of the rhino horn trade. Typical of strategies employed by other countries with vested interests in particular issues, South Africa sent a large delegation and high-ranking politicians in order to persuade other parties to side with them. Edna Molewa, the SA Environment Minister, was much in evidence in Bangkok, as was Pelham Jones, the Chairman of the South African Private Rhino Owners' Association. Many "side events" on legalization of the trade were organized and SA delegates took full advantage of the furore in the media surrounding the rhino poaching crisis in their country to tout theories about legalizing the trade.
In 2010 333 rhinos were poached, 448 in 2011, 668 in 2012, and perhaps already 170 in 2013. Deviating from previous announcements concerning her determination to take strong measures to stop the poaching, Molewa now says "The reality is that we have done all in our power and doing the same thing every day is not working" according to the SA Mail and Guardian newspaper. One could question Molewa's resolve to combat poaching in the past, but she now seems resigned that no matter what is being "done" by the police, customs, Army, rangers, security guards, fences, etc – it is a losing battle.
So now Molewa, doubtless guided by the Private Rhino Owners' Association, decided to push for legalizing the trade. In a coordinated campaign, many in the SA delegation sought interviews and organized events to push the message "more of the same [i.e. more of the same complacency] will not work".
Pelham Jones even mentioned that "Anti-trade organizations are aiding and abetting illegal trade without a better solution" with typically convoluted reasoning. No mention, of course, was made of the complete shambles SA has made of proper investigations of the trade, catching those involved, adequately prosecuting those caught, and handing out stern and deterrent sentences. And that SA is actually responsible for the wave of poaching by allowing "pseudo-hunting" by Vietnamese and their proxies that created a supply and stimulated more demand.
Remember that rhino poaching was virtually non-existent before 2008. Over the five years 2006-2010 SA exported 394 trophies and horns to Vietnam legally, but this was obviously not enough.
Edna Molewa went on to state "The model that we have is based on pure law of supply and demand. Economics 101".
But is it really?
The laws of supply and demand of rhino horn, I'm sorry to inform Molewa, are anything but Economics 101 or 201 or 301. The level of demand is not known, and the numbers of people who will be demanding rhino horn if it is legalized is not known. For example, the acting head of Vietnam's wildlife trade authority said it was "bullshit" that Vietnam was even a consumer. It all goes to China he said, despite significant evidence to the contrary of Vietnam as a major consumer of illegal horn. China says exactly the opposite, mentioning that there is no trade in rhino horn in China as it was made illegal in 2004 – again despite all evidence to the contrary including the existence of several rhino farms engaged in manufacture of pharmaceutical rhino products.
In this environment of denial and counter denial that there is a market for rhino horn in Vietnam and China coupled with an intense demand for "pseudo-hunting", live rhino trade, and illegal trade in rhino horns, how can any level of demand be established?
Will Vietnam and China, who deny any consumption of horns and in fact say it is illegal to trade in rhino products, now suddenly wish to participate in the legal horn market?
And realistically, given that both China and Vietnam are likely involved up to their necks in the illegal rhino horn trade, how much horn would they demand if it becomes legal? There is no ready answer to that, but one can make some educated guesses. Despite lax enforcement, it is still not really that easy to shoot a rhino and transport the horn to Vietnam. Yet in 2012, in the region of 700 rhinos were poached in Africa to supply the illegal market (from SA, Namibia, Kenya, Zimbabwe etc). Demand is at present kept down because of the difficulty in obtaining the horn, and hence the price of rhino horn in Vietnam is currently estimated to be about $60-65,000/kg. Nevertheless, there is a thriving demand, and that demand will only grow if there is a legal supply. If the demand created by legalizing horn grows as expected in China and Vietnam, the supply from the 4,000 to 5,000 rhinos (of all ages) in SA private hands will not meet the demand, prices will go up, and poaching will climb again.
Next, how will the market be regulated, and what will the sale price of legal horn be?
Certainly nowhere near the current black market price. However, if the legal price stays high it will not stop poaching as there is no incentive for poachers to halt their activities. After all, a poached rhino horn is priced in terms of the cost of obtaining it, which is minimal compared to the profit to be made selling it even if the legal price will be put at half or even 1/3 the current black market price. Elephants are being poached at a great rate even though the price per kilo of raw ivory is perhaps $4,000/kg. Poaching will continue as long as there is a profit to be made, and the legal price will have to remain high if the selling and buying governments can have any hope of limiting the demand. In other words, there is no way at all to undercut the illegal trade by placing legal rhino horn on the market.
I have mentioned elsewhere that the moves made to influence CITES delegates in Bangkok by SA delegates, the offered hosting of the next CITES convention in Cape Town, and the language emanating from SA politicians, highly placed officials and vested interest lobby groups all point to one thing. There will be tremendous lobbying and pressure applied to be able to sell rhino horns in the years to come.
Sadly, statements made by the Private Rhino Owners' Association are clearly based on expected large profits rather than a well-thought out model to conserve remaining rhinos. What SA needs to do to limit poaching is to stop being complicit and complacent and take strong action. What China and Vietnam need to do is admit they are consuming illegal rhino horn and put real measures in place to stop trading in illegal wildlife products.
Some recent steps in the right direction to close loopholes in the "pseudo" trophy hunting trade were made at CITES. Initially, Ireland, on behalf of the EU and Croatia, supported by Kenya and Israel, proposed excluding all hunting trophies from exemptions for personal and household effects. This worried South Africa, Canada, Mexico, Namibia, Botswana and the Safari Club International. The proposal was watered down but still removes personal and household effects exemptions for rhino horn and elephant ivory and was accepted by the Conference. Since rhino trophy hunting permits are no longer extended by South Africa to citizens of Vietnam, this will also affect proxy hunters employed by Vietnamese in the Czech Republic, Poland, Denmark, the Russian Federation, Ukraine, Thailand and the USA.
Before SA gets too far down the line with their fanciful proposals to satisfy the "demand" from China and Vietnam, all nations should ban the trade in rhino products. If that means a failed business model for the Private Rhino Owners' Association, so be it. Legalizing the horn trade will make financial profits for some, but will not profit the rhinos at all.
Picture credit: africajournalismtheworld.com
Please support us if you can to conserve the remaining fragile lion populations. Thank you.
Posted by Pieter Kat at 13:49
No comments have been posted yet.
---
Add a new comment