News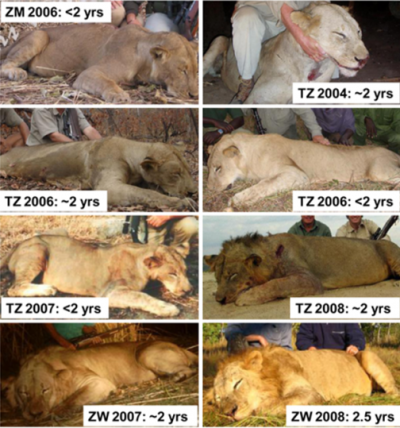 On March 17, the new Director of Wildlife of Tanzania posted an Opinion Piece in the New York Times entitled "Saving Lions by Killing Them".
Describing himself as "Tanzania's highest ranking wildlife official", Alexander Songorwa sought to appeal via this message to the US Fish and Wildlife Service NOT to list lions on the US Endangered Species Act. Mr Songorwa indicated that this action would be "disastrous" to "conservation" efforts by depriving Tanzania of much-needed income needed to support game reserves and community wildlife areas.
Mr Songorwa seems sadly out of touch with the status of Tanzania's wildlife:
• He states that "an average of 200 lions are shot each year, generating about $1,960,000 in revenue". In actual fact, the Tanzania government earned an average of $556,610 per year from lion trophy fees over the ten years 2002-2011 from an average of 160 lions shot – in the past five years this has declined to an average of 110 lions shot.

• He states that Tanzania has 16,800 lions. A much more likely number is less than half that. Nevertheless, Tanzania contains three of the five largest lion populations on the African continent, and intelligent conservation of these lions is of primary importance to the long-term survival of the species.

• Mr Songorwa states that "we recently made it illegal to hunt male lions younger than 6 years old…" While it might be illegal in principle, there are no penalties in place and no independent means of checking the age of trophy hunted lions exported. In fact, Tanzanian hunters are notorious for shooting males as young as two years old (see pictures above).

• Mr Songorwa states that Tanzania has 130,000 elephants. At current estimates of less than 400,000 remaining on the continent, he would imply that almost a third of Africa's elephants occur in Tanzania. This is very clearly wrong, especially since in the last three years it has been estimated that up to 30,000 elephants have been poached in Tanzania.

Mr Songorwa is the most recent Director of Wildlife in Tanzania, following a series of previous office holders relieved of duty for various infringements and corrupt practices. Mr Songorwa comes with good credentials – he has written several papers on community based wildlife management programmes, pointing out the reasons for their failure and suggesting ways forward. We hope that Mr Songorwa will now have the opportunity to put his theories into practice, as communities remain woefully out of step with income derived from Tanzania's wildlife resources by Government and trophy hunting operators (see below).
Mr Songorwa's assessment of 16,800 lions is far from current realities, and merely echoes previous statements by one of his predecessors, Erasmus Tarimo. In a reply to UK Undersecretary of State Richard Benyon in April 2011, Mr Tarimo stated that he:

1. Professed to understand concerns about the decline in Africa's lions, and pointed out this was mainly caused by loss of habitat and retaliatory killings;

2. Had information to indicate that within nominally protected areas lion populations are stable and/or increasing;

3. Could assure that in Tanzania, all wildlife is harvested sustainably according to the Wildlife Conservation Act 5 2009, and Hunting Regulations 2010. In addition, he pointed out that there was now a six-year age rule for trophy lions, that hunting outfitters had been educated on trophy selection and encouraged to use camera traps and video to record what lions come to baits.
Mr Tarimo and Mr Songorwa put great stock in the results of a lion "population survey" conducted in 2009. On investigation, this report (by Mesochina, Mbangwa, Chardonnet, Mosha, Mtui, Drouet, Crosmary, Kissui (2010 - Conservation status of the lion (Panthera leo Linnaeus 1758) in Tanzania) can be largely dismissed for the following reasons:

• The Report "data" was gathered between 19 October and 22 December 2009 (two months!) and the lion "survey" was based on questionnaires – 282 out of 311 responded positively to having seen lions (daily, weekly, monthly, yearly sightings) and so lion range in Tanzania was extrapolated to 816,790km2 or 92.4% of the country. This is nonsense.

• The Mesochina et al lion survey is unpublished and not peer reviewed. Funding and support came from the Tanzania Professional Hunting Association, Tanzania Hunting Operators Association, Safari Club International, IGF Foundation, and Tanganyika Wildlife Safari (who control more than half the hunting in Selous). These are all vested-interest groups, and doubtless had input. The report thus cannot be considered in any way unbiased.

• Mr Tarimo assured that lion populations in nominally protected areas remain stable and healthy. In fact, the report mentions that within protected areas, 35% of respondents (regardless of expertise) considered lions to be increasing and 33% of the respondents said they were decreasing.

• The report also acknowledges that the level of knowledge of lion populations is considered "high" for 42% of the protected areas without hunting, vs 1% of areas with hunting; "medium" for 32% and 33%, "poor" for 5% and 41%, and "questionable" for 21% and 17%. In other words, 74% of the information about the status of lions in protected areas could be considered to have some measure of reliability versus 34% for the hunting areas.

• The report acknowledges that "since most lion populations are not yet documented in terms of abundance, the population size proposed in this survey is considered as tentative and subject to refinement". Nevertheless, based on two months of "research", the authors propose that there might be 16,800 lions in Tanzania. Other estimates say 7073 (Bauer and van der Merwe, 2004) and 14,432 (Chardonnet 2002; an author of the 2010 report).
Mr Songorwa mentions that "Tanzania has regulated hunting for decades". That does not mean that such regulation has included any measure of sustainability. In fact, records indicate that hunting quotas would have allowed between 31% and 73% of available male lions to be hunted each year. In terms of actual harvest, hunters achieved between 10% and 23% of "available" males each year. This is not sustainable in any fashion, and is a good indication why male lions between 2-3 years old were shot in concessions.
In 2004, Baldus and Cauldwell (Tourist hunting and its role in development of wildlife areas in Tanzania. GTZ, 2004) produced a scathing report on hunting practices in Tanzania. While earning an estimated $27.7 million that year for hunting operators, total community benefits (42 district councils) were only about $1 million. In addition, the report indicated the following:

• Non-effective control by the Wildlife Department;

• A lack of professionalism among the hunting operators;

• A lack of ethics and the absence of standards;

• Disregard of quotas;

• Lack of respect for environmental standards (especially in the camps);

• A decline of wildlife populations in hunting areas;

• Misplaced influence being exercised by the operators and highly placed officials in government;

• Resistance to make positive changes and truly involve communities.

Why has this been allowed to continue by Tanzania authorities? The answer is short term money to be earned over long-term conservation needs.
We do not believe that trophy hunting of lions has been proven in any way sustainable in the past or will be in the future, but if Mr Songorwa wants to convince anybody that he can save lions by killing them (something we strongly disapprove of but that Tanzania seems determined to continue) we would suggest the following measures:

1. Declare a moratorium on trophy hunting at least for the time needed to conduct independent assessments of remaining lion populations in Tanzania based on ground counts rather than questionnaires sent by post;

2. Ensure that trophy hunting concessions are independently surveyed as to the population status and pride composition of lions in hunting concessions;

3. Based on results of 1 and 2 above, realistically assess the capability of Tanzania's lion populations to be sustainably hunted by setting much more realistic quotas and very strict measures, penalties and sanctions to ensure underage lions are no longer hunted;

4. Consistently evaluate levels of commercial utilization of lions in Tanzania by requiring regular non-detriment reports based on actual and current data;

5. Immediately draw up a National Lion Conservation Plan to ensure long-term survival of the species;

6. Convince us that immediate actions will be taken to ensure that the current disparity between hunting operator and community benefits from consumptive wildlife utilization are significantly addressed;

7. Join his Minister of Wildlife to significantly address levels of corruption in the wildlife department;

8. Reform the guiding values of the Tanzanian Wildlife Department to ensure that commercial utilization of wildlife is seen as secondary to precautionary principles guaranteeing the conservation of Tanzania's wildlife heritage in line with the vision of Julius Nyerere, Tanzania's first President.
Please support us if you can to conserve the remaining fragile lion populations. Thank you.
Posted by Pieter Kat at 13:43
No comments have been posted yet.
---
Add a new comment