News
Latest Lion Aid News
Tag: Christmas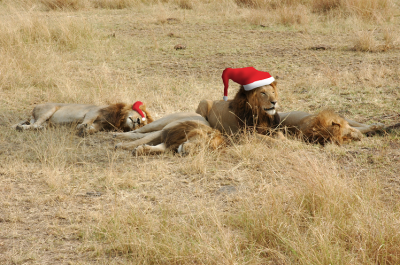 We would like to wish all our supporters a wonderful Christmas and a 2023 that will be better for our lives and the lives of lions.
This has been a tumultuous year with continuing COVID lockdowns, and rocketing inflation, food costs and fuel costs.
It has been so difficult for many of us but we thank every one of you for your support this year and an extra special thank you to those of you who have been able to donate to LionAid and help us achieve some notable successes in our lion conservation work.
We are especially proud of the work we are doing in Kenya, equipping rural Maasai communities with lights around the perimeter of their villages to deter predators and providing lights in their homes for the first time ever.
It's still early days and we have very many more villages to equip with these life saving lights but the results so far are massively encouraging. These communities are grateful for the support and the villages already protected are no longer suffering livestock losses from predators, including lions.
This means lions are not getting killed in retaliation. Everybody wins.
We will need to raise a lot more funding in 2023 to enable us to equip many more villages in the Merrueshi ecosystem.
Maybe we will need to climb another mountain or undertake some other challenge to inspire you - our wonderful supporters- to donate to this worthy cause!
2023 has also seen the second reading of the Hunting Trophies (Import Prohibition) Bill in the UK House of Commons. And this Bill passed its second reading unopposed.
This is another amazing achievement and offers so much hope that we can ban all trophies from entering the UK.
With such low numbers of lions remaining in the wild, such a trophy import ban can't come too soon!!
This Bill still has to go through the Committee stage and then onto the House of Lords. The next Committee stage is expected to take place in the New Year.
Plenty of hard work still to come to finally succeed in getting this Bill enacted so that wildlife, including our precious lions, can breathe a little easier.
LionAid, together with our coalition partners, will do all we can to support the successful enactment of this long overdue Bill.
So, despite the difficulties so many of us have faced this year, there has been some really good news for lions and we must make sure that this continues in to 2023.
With your help and support, we can really do this!
So Merry Christmas everyone. We wish you all a peaceful, happy holiday with your friends and loved ones and our best wishes for the New Year to come.
Please continue to DONATE if you can! We have achieved some great strides forward this year for lions and we need to continue this work in 2023.
Every donation, however small, helps us achieve more of the life saving lion conservation work in Africa. We are counting on you. Thank you!
Add a comment | Posted by Chris Macsween at 22:51