News
Latest Lion Aid News
Tag: fundraising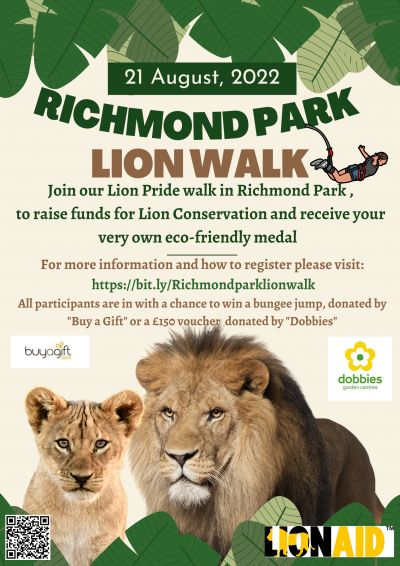 WE ARE DELIGHTED TO ANNOUNCE THE RETURN OF THE RICHMOND PARK WALKING FOR LIONS- 2022
August 21st 2022- Registration 10.30am, walk starts at 11am
Join us to celebrate lions and gain the much needed funds for lion conservation.
With an estimated 10,000 lions left they are being persecuted and will become extinct if we don't come together and act fast. Strong, fearless, majestic, magnificent, iconic, yet human/wildlife conflict, trophy hunting and the wildlife trade in body parts, are some of the continued pressures on this species. Stand side by side with us at LionAid and support this amazing fundraising opportunity to make a real difference.
Richmond Park is one of London's eight Royal Parks and a National Nature Reserve. Along with having some beautiful views and rare species of fauna and flora
We are charging a £10 registration fee, and in return you will be awarded with an eco-friendly medal and certificate on completion and will automatically be entered into our prize draw to win a bungee jump, provided by "Buy a Gift".
All you have to do is register below and we will send you your very own registration details via email.
CLICK ON THE "ADD TO CART" YELLOW BUTTON BELOW TO REGISTER FOR THIS WALK.
Add a comment | Posted by Chris Macsween at 14:37