News
Latest Lion Aid News
Tag: Jim Clubb
Tuesday 27th November 2012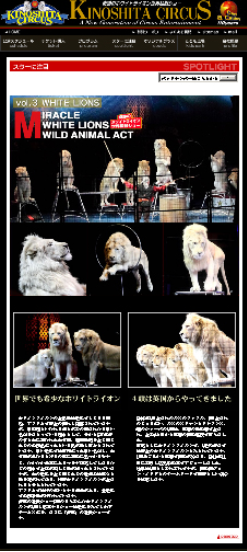 Today, the Sun Newspaper and the Mail Online published the story about the sale of white lions from the West Midland Safari Park (WMSP) via Amazing Animals/Heythrop Zoo to the Kinoshita Circus in Japan.
Working together with the Captive Animal Protection Society, LionAid was able to provide considerable information about these lions through our contacts in Japan and from official export/import records. We also received support from the Born Free Foundation and the Royal Society for the Prevention of Cruelty to Animals.
Presented with the information prior to today's press articles, both WMSP and Amazing Animals owner Jim Clubb decided initially on a "no comment" approach. Later, WMSP admitted that they had sent the lions to Clubb "in good faith", and Clubb admitted sending them to Kinoshita but said "I've no idea if the park [WMSP] knew they were going to the circus, that's a matter for them."
It should be noted that Clubb changed his mind several times since the "no comment" approach when asked further about the white lion/Kinoshita Zoo connection, admitting that "temporarily we had some cubs here once", but denying sending any cubs to the Japanese Circus. He has now come full circle.
Jim Clubb has had a long association with the Kinoshita Circus, perhaps beginning in 1997 when the Clubb Lion Act was shown there. The Clubb Lion Act used trainer Emile Smith (a main trainer at Amazing Animals) and ran at Kinoshita for three years. Emile Smith posted pictures of himself on his Facebook site in November 2010 loading crates onto a cargo plane (likely containing the WMSP lions) and then posing at the Kinoshita Circus. The circus website states that the white lions arrived in November 2010, were born in a UK zoo in 2008 (West Midland was the only zoo breeding white lions at the time), and trained at a UK facility (Amazing Animals) before being shipped to Japan.
In addition, a leading circus industry magazine, King Pole, confirms that the lions used in the Kinoshita show are owned and trained by Clubb's business, stating: "All the big cats, giraffe and zebras are trained and owned by Jim Clubb's 'Amazing Animals' at Heythrop. The Clubb organization have had a continuing contract to provide not only animals but trainers with Circus Kinoshita..."
It is also interesting to note that the Managing Director of West Midland Safari Park, Ivan Knezovich, also has a circus background. Staring as a trapeze artist he moved on to animal acts with seals in South Africa, Antibes and Paris before landing a job at WMSP to replace a dolphin act that had closed.
The statement by WMSP that they supplied the white lions to Jim Clubb "in good faith" is therefore quite surprising. Clubb runs a business to provide trained animals to the entertainment industry. These animals have featured in nature films, in Hollywood movies, at corporate events, posing with celebrities, and at circuses. The extent of denials by both WMSP and Clubb are surprising as the various transactions with the white lions were clearly business deals traceable by a series of letters/negotiations, invoices, and payments. Is it possible that WMSP supplied Clubb with animals (giraffes? zebras?)in the past?
What the newspapers also did not report is that since receiving their original four white lions in 2004, WMSP then embarked on a highly "dedicated" breeding spree. From 2006-2009, their three lionesses produced 22 cubs. In fact, two females produced 20 of those. What was the reason for this cub assembly line? Why did WMSP want so many white lion cubs? Was it not driven by the desire to profit from their sales? It would be very interesting to know what happened to all these cubs – we know that 4 went to Japan but what about the other 18? Are they still at WMSP? A source tells us that some cubs did not thrive (not surprising as they are heavily inbred), but can WMSP please tell us what happened to all those cubs and how many white lions are now at WMSP?
The British and Irish Association of Zoos and Aquariums (a UK Zoo regulatory agency) has promised to investigate WMSP. Jim Clubb is not a member. WMSP is also a member of the European Association of Zoos and Aquariums. We await their conclusions, and whether WMSP will retain their valued membership. These discussions can take place as soon as tomorrow as WMSP is hosting the BIAZA Awards, Communications and Education Conference for 2012. The conference will focus on showcasing innovative education and marketing ideas…
For now, WMSP is spending considerable time deleting the very many posts coming onto their Facebook site requesting an explanation of why they sold the lions to Jim Clubb.
They also refused an interview with BBC Radio Hereford this evening......
Add a comment | Posted by Pieter Kat at 14:13