News
Latest Lion Aid News
Tag: Michael Gove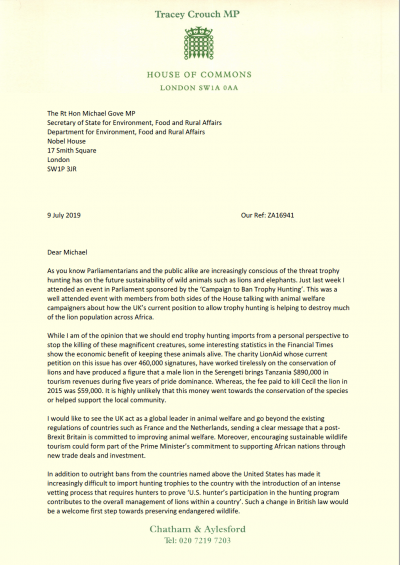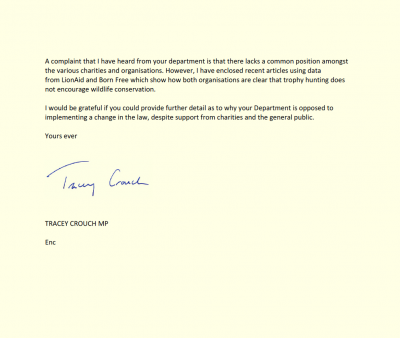 As many of you will be aware, The UK Financial Times consulted with LionAid and subsequently published an article on the 6th July, comparing the economic value of a live lion versus a trophy hunted lion and not unsurprisingly concluded that, discounted over a 12-year life, ANY lion would have a net present value of $179,000, which is still more than four times higher than the price for shooting a pride master. LionAid further calculated that a pride male in the Serengeti would bring in tourism revenues of $890,000 during five years of pride dominance.

The article, to say the least of it, attracted a lot of interest, with the inevitable negative feedback from the those who support the continuation of lion trophy hunting!
Having discussed this latest article with Tracey Crouch MP, we were delighted at the attached letter she penned to Michael Gove shortly afterwards.
Tracey Crouch is awaiting a reply from Michael but we hope that his latest editorial in last Sunday's UK Daily Mail perhaps indicate he is at least going to announce a ban on captive bred lion trophy imports shortly?

Perhaps, the Financial Times article, which was conducted with absolutely no bias as to the conclusions they reached, will focus his mind on the catastrophic realities of all lion trophy hunting and he will take the brave but much needed step to ban ALL lion imports into the UK.

So now we wait………
Add a comment | Posted by Chris Macsween at 13:39